Bumgarner's run of success in good company
Bumgarner's run of success in good company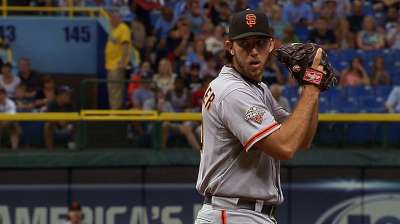 ST. PETERSBURG -- Madison Bumgarner now has more in common with Gaylord Perry besides pitching for the Giants and being from North Carolina.
Bumgarner's nine-game streak of pitching at least seven innings and allowing three or fewer runs is the longest by a Giant since Perry built a 10-start streak between April 13 and May 25, 1969.
It's essential to use the term "start." Perry appeared once in relief during that stretch, as workhorse starters of that era frequently did. In fact, Perry completed nine games in his streak and lasted 8 1/3 innings in the only game he didn't finish.
Bumgarner's streak is tied for the second-longest in the Major Leagues since 1996. Arizona's Randy Johnson pitched 14 games in a row in which he allowed three runs or fewer while working seven innings or more in 1999. Philadelphia's Cliff Lee (2001), Detroit's Justin Verlander (2001) and Minnesota's Johan Santana (2004) also had nine-game streaks.
Tampa Bay manager Joe Maddon, who hadn't seen Bumgarner pitch, was thoroughly impressed with the left-hander.
"He knows how to elevate [pitches] and how to get underneath a right-handed hitter," Maddon said. "He could throw a strike and he had great poise."
Chris Haft is a reporter for MLB.com. This story was not subject to the approval of Major League Baseball or its clubs.