Morales rides hot streak; not focusing on free agency
Morales rides hot streak; not focusing on free agency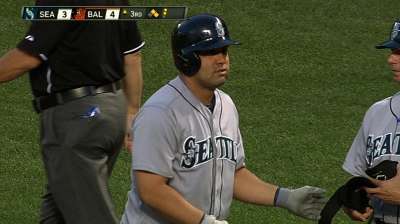 BALTIMORE -- Mariners designated hitter Kendrys Morales finished Friday's 11-8 loss to the Orioles with four straight hits, extending his consecutive hit streak to eight at-bats and putting him one shy of Raul Ibanez's club record of nine in a row set in 2004.
But while the red-hot hitter is putting together an excellent season, he said he's not worrying about what happens when he becomes a free agent at year's end. General manager Jack Zduriencik has indicated an interest in talking to Morales about staying in Seattle, but Morales said he's only concerned with finishing this year strong for now.
"I feel comfortable here. I like what I see," Morales said Saturday through interpreter Jaime Navarro, the team's bullpen coach. "We have a young team and I like it a lot. But that's something they need to work on, a decision from the office, and I'm not going to worry about it and just keep helping the team.
"I haven't thought about it. I'm not worrying about that. I'm worried about finishing strong, and after that we'll talk about it."
Morales went 4-for-5 in Thursday's series finale in Boston before Friday's loss to the O's, becoming just the second player in Mariners history with back-to-back four hit games. Ichiro Suzuki pulled that feat three different times.
Going into Saturday's game, Morales had gone 13-for-17 on the current road trip and 22-for-49 (.449) over his last 12 games, as he hiked his batting average to .298 on the season.
Morales obviously is seeing the ball well right now and has made a conscious effort to get on pitchers quickly during his hot streak.
"I'm trying to be aggressive on the first pitch," Morales said. "If they throw them for strikes, I'm going to go after them. That's the best thing I've been doing. Right now, I feel comfortable doing that and it's working for me."
Acting manager Robby Thompson said Morales is on his best streak since he joined the club, but that comes as no surprise.
"The guy has ice in his veins," Thompson said. "He's as even-keeled as anybody I've been around. You'll never know if he's been slumping a little or if he's been performing like he has these last couple series. That's just the way he is. That's why he is who he is, not only out here on the field, but in the dugout and clubhouse. He's a special guy."
Greg Johns is a reporter for MLB.com. Follow him on Twitter @GregJohnsMLB as well as his Mariners Musings blog. This story was not subject to the approval of Major League Baseball or its clubs.