Maurer adjusts to bullpen, long reliever role
Maurer adjusts to bullpen, long reliever role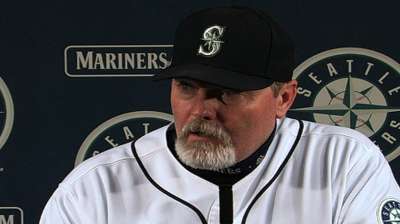 BALTIMORE -- The life of a long reliever is never easy, given sporadic usage, but for Brandon Maurer it's even more of an adjustment as he adapts to a bullpen role for the first time in his career.
Maurer has always been a starter until being called back up by the Mariners on July 27 to replace Hector Noesi as the long man. He's pitched twice now in relief, with mixed results.
Maurer has gone three innings in both his appearances, but in his first outing, he pitched two perfect innings before giving up a two-run homer in his third frame at Boston in an 8-2 loss. On Friday, he went the opposite direction, giving up three straight singles and then a grand slam to Nate McLouth before getting his first out, but then holding the Orioles without a hit the rest of the way.
Still adapting to his new role?
"I'd say so," said Maurer, who is 2-7 with a 7.16 ERA in 12 appearances overall this rookie season. "I need to get comfortable coming out there, maybe not throwing as many pitches in the 'pen."
Maurer said his initial pitches were "going up and away instead of down and away," including the two-seamer that McLouth drove out with the bases full. But he began working toward throwing more downhill and found some success after his rough beginning.
"I'll try to work off this," said Maurer, who began the year in the rotation and is still regarded as a bright young prospect after just turning 23 last month.
Acting manager Robby Thompson said Maurer is a work in progress.
"After that first inning, he settled down and made some adjustments," Thompson said. "A lot of those pitches were over the heart of the plate, and when you do that against this club here, you're going to run into some problems. He started mixing up his pitches better and locating better."
Greg Johns is a reporter for MLB.com. Follow him on Twitter @GregJohnsMLB as well as his Mariners Musings blog. This story was not subject to the approval of Major League Baseball or its clubs.