Myers provides quick spark for Rays' offense
Myers provides quick spark for Rays' offense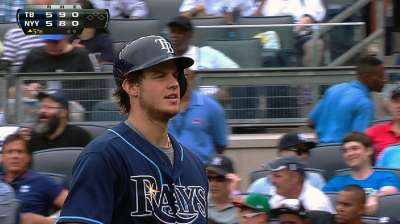 ST. PETERSBURG -- The Rays turned in their best month in team history when they went 21-5 in July, and while the offensive numbers were stellar, they were generated in a way Rays fans have never seen.
Without Evan Longoria. He had his second worst month as a Major League hitter, but the Rays continued to churn out wins thanks in large part to rookie right fielder Wil Myers.
Myers was recalled from Triple-A Durham on June 18. Longoria's batting average dipped below .300 on July 3 and has not returned.
"Having Wil here has helped in that he's picked up some for Longo not being at the top of his game," manager Joe Maddon said. "I've just asked him to be himself and play. He has definitely provided the RBIs, the good at-bats and the protection."
Myers had a 12-game hitting streak snapped Friday but leads the American league in batting since the All-Star break (.415). Although he's only tallied 37 games, his .324 batting average leads the team.
He had seven consecutive multi-hit games, including his first multi-home run game, during the Rays' post-All-Star break road trip.
"I feel like I'm getting better out there," Myers said. "I'm working with the coaches and they're giving me some good pointers. I'm getting a lot of good reps out there during batting practice and I feel like it's coming along well."
Maddon often has to remind himself Myers is just 22 years old.
"He's kind of sophisticated in his knowledge regarding at-bats and game situations," Maddon said. "His baseball acumen is actually very high. He has a lot of good stuff going on up there. He has good thoughts and he sees things on the baseball field. That's why he's so good."
Myers' teammates have been impressed with the amount of composure he has shown in the tough moments of his young career.
"He has a short memory," designated hitter Luke Scott said. "He's in his own little world and he's able to forget things really quickly, which is great. If you could put that in a glass and sell it, I would buy it and drink it."
Bill Chastain is a reporter for MLB.com. Sam Strong is an associate reporter for MLB.com. This story was not subject to the approval of Major League Baseball or its clubs.