Saunders' monster night launches Mariners to victory
Saunders' monster night launches Mariners to victory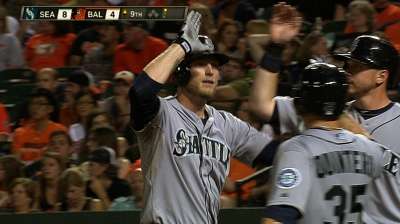 BALTIMORE -- Having already seen his team lose a couple slugfests on the current road trip, Michael Saunders didn't leave anything to chance Saturday night at Camden Yards.
The Mariners' center fielder staked his team to an early lead with a three-run homer in the fifth, then blasted a two-run shot in the top of the ninth to give Seattle's bullpen a little breathing room en route to an 8-4 victory over the Orioles to snap a four-game losing streak.
Nobody was happier to see Saunders' second smash than rookie right-hander Danny Farquhar, who got the last out of the eighth and then stayed in for the ninth to record his first career save.
"They had their big boys coming up," said Farquhar, who retired four hitters in the heart of the Orioles' loaded order on 13 pitches with two strikeouts. "Thank God Saunders hit that two-run homer in the ninth. That definitely made things a lot easier."
Saunders tied a career high with his five RBIs on the night and now has 10 homers on the season, including three in the first two games of this series.
"I feel like for a little while now I've been swinging it pretty well," said Saunders, whose 2-for-4 night lifted his average to .234 on the season. "I know I dug myself quite a hole earlier in the season, but I've been digging myself out of that, just taking it an at-bat at a time.
"The first couple at-bats I struck out tonight, and it's easy to get down after that," Saunders said. "But the way the team has been swinging it, it's kind of contagious."
Indeed, the Mariners racked up eight runs on 15 hits, including three home runs, and have hit seven homers in the first two games at Camden Yards. But after losing 11-8 on Friday, this time young right-hander Erasmo Ramirez held the Orioles in check, and Charlie Furbush and Farquhar were able to finish things off.
Ramirez, making his fourth start after missing the first three months of the season with an elbow issue, won his third straight decision as he threw six-plus innings with four hits, four runs, no walks and six strikeouts. The 23-year-old from Nicaragua is 3-0 with a 7.25 ERA.
"Everybody put something into the game, and that's the reason we won today," said Ramirez.
Ramirez allowed just two hits in the first six innings, but both were home runs -- by catcher Matt Wieters and third baseman Manny Machado -- as the Orioles upped their Major League-leading home run total to 148.
"Their guy threw the ball well," said Wieters. "I think it's the second time he's pitched against us and he's thrown the ball well both times. He's got good stuff and he's able to mix and match with all his offspeed pitches. I think tonight, more than anything, give credit to him."
Ramirez was lifted after giving up a single and double to lead off the seventh, with both those runners coming around to score off Furbush to cut the lead to 6-4.
Furbush got two outs in the eighth and then put two runners on before Farquhar retired Adam Jones on a fly ball to center. Acting manager Robby Thompson then kept lefty Oliver Perez seated in the bullpen and stuck with Farquhar to finish out the ninth, even though the Orioles had a couple potent lefties awaiting.
"He's been very good against lefties, so we were going to stay with him and more than likely have Ollie ready if he got in trouble," said Thompson.
Justin Smoak got the Mariners on the board with a solo home run in the second inning, launching a 2-1 curveball from Scott Feldman into the right-field seats for his 10th long ball of the season, and Saunders broke things open with his three-run blast in the fifth off reliever T.J. McFarland.
Smoak has hit seven of his 10 homers in 35 games since coming off the disabled list on June 18. The big first baseman went 3-for-3 with a double and two walks on Saturday, and he is batting .333 (31-for-93) with four homers and 12 RBIs since July 1 to lift his season average to .274.
"With those guys in that other clubhouse, you've got to put up runs," Smoak said. "Those guys can hit and they've done it all year. We knew going into top of ninth we needed to add at least one more. To get two was huge for us."
The Mariners blew a chance to break things open in the eighth when Raul Ibanez singled off the wall in right with runners on first and second. But Nick Franklin was gunned out at the plate and Ibanez got caught as well when he advanced to second, only to find Kendrys Morales still there as well after Franklin had initially gone back to third and forced Morales to reverse course.
"There was a lot going on there," said Thompson. "Nick kind of misread it and started to go back. Kendrys and Raul were on the move and once Nick went back, that kind of set it all off. He said it didn't sound good off the bat and he didn't get a good read, but it was just a young mistake and something he'll learn from. Fortunately it didn't hurt us too bad."
Morales saw his streak of eight straight hits end when he grounded out to the pitcher in the first inning, leaving him one shy of Ibanez's nine straight hits in 2004.
Morales finished 2-for-5 and is hitting .682 (15-for-22) in the first five games of this six-game East Coast trek to put him at .299 for the season.
Greg Johns is a reporter for MLB.com. Follow him on Twitter @GregJohnsMLB as well as his Mariners Musings blog. This story was not subject to the approval of Major League Baseball or its clubs.