Baker gives Hannahan start over struggling Frazier
Baker gives Hannahan start over struggling Frazier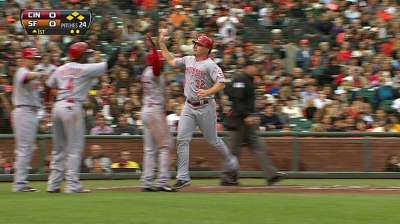 CINCINNATI -- With ground-ball pitcher Jake Westbrook taking the mound for the Cardinals on Saturday, Reds manager Dusty Baker decided to go with the left-handed-hitting Jack Hannahan at third base in place of Todd Frazier. While the matchup was a main reason for Baker's lineup choice, Frazier's recent skid at the plate also played a factor.
"We've got to play Hannahan some time to keep him sharp," Baker said. "And hopefully Frazier after this day off, he'll get his stuff back again because it's been tough. He's been going kind of crazy, and it's tough to watch him struggle like that."
Frazier entered Saturday in a career-high 0-for-24 slump, which covered seven games and marked the longest such skid by a Reds player since Drew Stubbs went 0-for-32 in late June and early July last season.
Based on personal experience from his own playing days, Baker expressed how difficult it his to be stuck in a slump, and his first piece of advice for Frazier was to ignore his sinking average and increasing number of hitless at-bats. He also said sitting back and waiting for the skid to end won't help.
"I suggest getting more aggressive," Baker said. "Most of the time, when you're not hitting, you got a quick shoulder or a quick hip and you're not hitting the ball away from you. Guys that are hitting, they're hitting the ball away from them because ... they're staying close."
Baker also said it's important to remember that everyone who plays baseball will face some cold streaks, but they don't last forever. Before beginning his current slide, Frazier enjoyed an eight-game hitting streak in which he batted .406 (13-for-32) with six doubles and seven RBIs.
"The beauty of this game is you start over the next day," Baker said. "You've got to be strong mentally and actually go on the attack."
Jeremy Warnemuende is an associate reporter for MLB.com. This story was not subject to the approval of Major League Baseball or its clubs.