Jay confident he's heading in right direction with bat
Jay confident he's heading in right direction with bat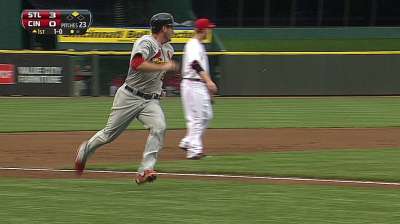 CINCINNATI -- Jon Jay has two hits in each of his last three games and is batting .358 over his last 17 contests.
So what triggered the flip of the switch for the center fielder, who entered his current surge with a .240 batting average?
"I don't know," Jay said, stumped by his peaks and valleys.
Jay has raised that mark to .258 and manager Mike Matheny felt confident enough in the 28-year-old's ability to place him in the leadoff spot Saturday for only the third time since June 1.
"Obviously, I didn't start off the way I wanted to," Jay said. "But I've felt good. That's just the way it goes sometimes. I don't know how to put a finger on it."
By the end of the season, Jay said, he expects to boast numbers that more accurately depict his hitting prowess. After all, he entered the 2013 campaign with a career .300 batting average in three Major League seasons.
"I was just having a down year, offensively," Jay said, "but I have confidence in myself that I'm going to finish off the year and look back on it and be proud of it."
Zack Meisel is a reporter for MLB.com. Follow him on Twitter @zackmeisel. This story was not subject to the approval of Major League Baseball or its clubs.