LA sets franchise record with 13 straight road wins
LA sets franchise record with 13 straight road wins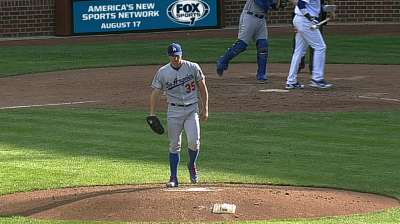 CHICAGO -- The Dodgers set a franchise record Saturday, a 3-0 win over the Cubs at historic Wrigley Field serving as a record-breaking 13th consecutive road win.
The road streak is the longest in the National League since the 1976 Phillies also won 13 straight on the road. The all-time National League record for a road win streak is 17 by the 1916 New York Giants. The Dodgers also have a three-game win streak that puts them 13-2 since the All-Star break and 30-7 since June 21.
With the victory, the Dodgers extended their lead in the NL West to a season-high 4 1/2 games.
Rookie sensation Yasiel Puig exited the game in the eighth inning with a left thumb contusion and came out of the clubhouse afterward with a soft brace on his wrist.
So he wasn't on the field at the end, but Kenley Jansen was. He's saved six of those wins, and after this one drew the inevitable comparison to bullpen royalty befitting a special occasion.
"Without going out on a limb, it's Mariano-ish," manager Don Mattingly said, linking the closer he now relies on to Mariano Rivera, the Yankees' closer and all-time saves leader. "He's not wasting any pitches. It's, 'Here's my stuff, see if you can hit it.' It's allowed him to be in more of these games."
Chris Capuano gave the Dodgers 6 1/3 scoreless innings five days after tossing 6 2/3 scoreless innings. The defense turned four double plays. Carl Crawford had the key hit, a two-run single in the sixth inning off Jeff Samardzija. And Brandon League, Ronald Belisario and Paco Rodriguez got the game from Capuano to Jansen, who struck out two in another perfect inning.
Jansen has converted his last nine save opportunities. He's retired the last 22 batters he's faced, 10 on strikeouts. His ERA is 2.08 with 79 strikeouts in 56 1/3 innings. He's on pace to make a career-high 81 appearances and has stepped up his conditioning regimen in hopes he can stay strong well into October.
Jansen seems much more comfortable throwing a naturally late-breaking cutter like Rivera than being compared to him.
"I'm way far from Mariano, I've got a whole lot more to accomplish," said Jansen, who took over the closer role from League in June and is 16-of-19 in save opportunities. "Mariano is a legend. I'm way far from it ... but it's pretty awesome to hear that."
But Jansen needed something to save Saturday, and Capuano played the biggest role, scattering six hits and a walk while striking out five. Capuano is 10-3 lifetime against the Cubs, 6-2 at Wrigley Field and 4-6 this season. In five of Capuano's last eight starts, he hasn't allowed a run.
He benefited from three of the four double plays the Dodgers turned. Jerry Hairston started a pair of them, Hanley Ramirez one and Skip Schumaker ranged up the middle to start the most difficult one. Capuano said his recent success can be traced to a mechanical adjustment he's made that is designed to help him stay on line with his target and locate to both sides of the plate with downward movement. Nonetheless, with plans to call up Stephen Fife to start Sunday, Capuano seems to be auditioning to keep his job every start.
He opened the season in the bullpen and is in the rotation now because of season-ending injuries to Chad Billingsley and Josh Beckett.
"There's definitely a sense of trying to follow the other acts out there," he said, referring to Clayton Kershaw, Zack Greinke, Hyun-Jin Ryu and newcomer Ricky Nolasco. "I'm just trying to follow and do my job."
Meanwhile, League has quietly righted a ship that was listing badly earlier this year, the first of a new three-year contract at closer's wages. He has pitched 8 2/3 scoreless innings in his last seven appearances. He inherited a one-out, first-and-third situation from Capuano and got Cody Ransom on a double-play grounder.
Puig scored the Dodgers' first run after his second infield hit of the game, a third-inning bunt single. He raced to third on an Andre Ethier single, and Hairston squibbed a single past first baseman Anthony Rizzo to score Puig.
The Dodgers failed to score in the fourth after loading the bases with one out, but added a pair of runs in the sixth on a Crawford single that scored Schumaker, who had walked, and Tim Federowicz, who doubled.
Puig nearly made an injury-defying catch of Samardzija's foul ball early in the game, racing over to foul ground in right field and leaping against the wall. The ball hit his glove, tapped the wall's protective padding, then while on his back on the warning track, Puig reached to scoop the ball before it hit the ground. Originally called an out by first-base umpire Jerry Layne, the call was reversed after a meeting of all four umps because it hit the wall.
In the seventh, Puig made the run-saving diving catch of Starlin Castro's sinking line drive after Welington Castillo doubled. Puig landed on his left arm, but held on to the ball and finished the inning. Nate Schierholtz singled Castillo to third before League relieved Capuano and got Ransom on the inning-ending double-play grounder.
Ken Gurnick is a reporter for MLB.com. This story was not subject to the approval of Major League Baseball or its clubs.