A's frustrate Garza with small ball, build lead in West
A's frustrate Garza with small ball, build lead in West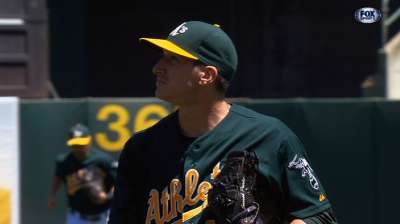 OAKLAND -- The A's sacrificed hits for a win against the Rangers and a boost in the division Saturday, using small ball to take out Texas and even the three-game set. Oakland's 4-2 victory, which snapped its three-game losing streak, featured four bunts, including three sacrifices.
Texas starter Matt Garza was around for it all, and he didn't like it. But that's not the A's problem, especially after they extended their American League West lead on Texas to 3 1/2 games.
They jumped on the Rangers righty for three runs on his first six pitches of the game, with Coco Crisp getting an anemic offense going with a leadoff bunt single. Eric Sogard's ensuing sacrifice bunt placed Crisp on second, and Jed Lowrie quickly followed with an RBI single, setting the stage for Yoenis Cespedes, who smashed one over the left-center wall for an early 3-0 lead.
Garza, who hadn't given up a single run in the first inning before Saturday, again fell victim to the small ball in the seventh, when Sogard perfectly executed a safety squeeze up the first-base line to bring home Alberto Callaspo, who led off the frame with a walk.
"That showed me they're going to play small ball against me," Garza said. "The next time I'll be ready."
Garza had some choice words for Sogard, as shown on national television.
"Obviously we scored the run, so he's not going to be happy," Sogard said. "We're happy about it."
"Usually, you figure a guy bunts, you take a free out," said winning starter Jarrod Parker. "It's probably not his favorite thing to defend and play against, but it's something we had to do today, and any time we can put pressure on them, I think that's important."
Might this type of winning formula be just what the A's need to get a slowed offense going?
Many in the clubhouse think so.
"When we are a little slow with the offense, it's definitely something that can get us going, especially with a guy like Coco leading us off," Sogard said. "He's so fast, it was unbelievable how quick he got down the line there."
"It was an interesting day to say the least, but you gotta do what you gotta do to win a game," added catcher Stephen Vogt. "We were fortunate enough to string together at-bats and come away with the win.
"I think any time you can go out and get a win against a team like that and a pitcher like that, it's going to be a good boost for you as a team. Our goal is to have good at-bats, quality at-bats, and hopefully we can continue to do that."
Parker, meanwhile, didn't have his best stuff, making his six-inning performance all the more impressive. His two-run outing, which included six hits, two walks and six strikeouts, not only came on the heels of a six-run outing against the Angels, but just hours after rotation mainstay Tommy Milone was optioned to Triple-A Sacramento.
Milone's personal struggles reflected woes felt by Oakland's entire starting staff, which entered the day with a 5.56 ERA through the first eight games of the homestand.
Parker had just one clean inning and his pitch count escalated quickly. He also gave up his first home run since July 6 -- a solo shot to Ian Kinsler in the fifth . But more times than not, he made a big pitch when he had to, something Oakland's staff has struggled to do since the break, notably Milone.
"I felt like it was very important that he got us through the sixth and he battled through today without his best stuff, and he kept his composure and made big pitches when he had to," manager Bob Melvin said.
"He's got a sneaky fastball and his changeup is up there as one of the better ones in the game," said Texas' David Murphy. "He mixes in a slider and locates. When you have good stuff and you can locate it, you're going to be successful."
Parker was more impressed with the work of his teammates.
"Any time we're playing somebody within the division we know we need to win those games, and obviously they're right behind us and we know we need to put together nine complete innings," he said. "I think for us to come out and set the tone early and score some runs and just be upbeat, I think that's a big thing for us right now.
"It doesn't matter if we're hitting the ball out of the ballpark or manufacturing. We find ways to do it, and that's what we need to do."
Jane Lee is a reporter for MLB.com. Read her blog, Major Lee-ague, and follow her on Twitter @JaneMLB. This story was not subject to the approval of Major League Baseball or its clubs.