Reds send down Partch, call up Villarreal
Reds send down Partch, call up Villarreal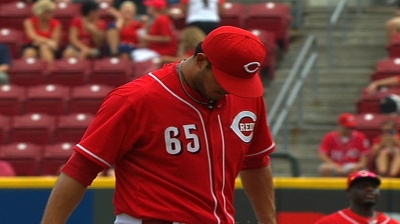 CINCINNATI -- Looking to avoid burning his entire bullpen in a 13-3 loss Friday, Reds manager Dusty Baker said he "sacrificed" reliever Curtis Partch by continuing to pitch him while the Cardinals beat him up for five earned runs in 1 1/3 innings.
Baker's choice to leave Partch in the game worked to an extent, as the Reds still had two relievers available by the end of a game that was all but decided after five innings.
However, it wasn't quite enough, and Partch was sacrificed again on Saturday when the Reds optioned the 26-year-old right-hander to Triple-A Louisville and replaced him with right-hander Pedro Villarreal.
"We needed an arm after last night," Baker said. "We're lucky we didn't go through more."
Before Friday's rough night, Partch had been pitching well for the Reds. In his previous five outings, which covered 8 2/3 innings, Partch amassed a 1.04 ERA while striking out seven batters and walking four. For the season, he owned a 5.89 ERA in 11 appearances (18 1/3 innings).
Although this marks Villarreal's third stint in the Majors this season, he's only made one appearance. Making an emergency start for the injured Johnny Cueto on June 5 against the Rockies, Villarreal allowed six runs on 10 hits and two walks in just 3 2/3 innings.
After making 15 of his first 16 appearances for Louisville this season as a starter, Villarreal has come out of the bullpen in his last nine outings. He'll be immediately available for the Reds, as he last pitched on Thursday, when he struck out one batter in a scoreless 10-pitch inning.
With Jonathan Broxton expected to return soon, Baker said Villarreal's third stint with the Reds will likely be a short one.
Jeremy Warnemuende is an associate reporter for MLB.com. This story was not subject to the approval of Major League Baseball or its clubs.