Samardzija a hard-luck loser against Dodgers
Samardzija a hard-luck loser against Dodgers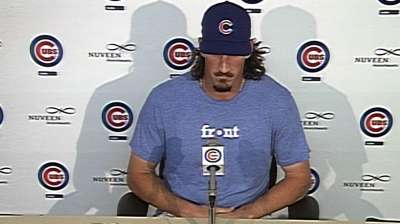 CHICAGO -- Jeff Samardzija couldn't deny the streaking Dodgers a date with history Saturday afternoon.
Samardzija turned in his second straight quality start, giving up three runs on seven hits while striking out nine over six innings, but couldn't get any run support as the Cubs fell, 3-0, at Wrigley Field in the Dodgers' franchise-record 13th consecutive road victory.
Samardzija also had five walks, tying a season high, but he said he knew he would have to be careful with a potent Dodgers lineup.
"You've got to give a little credit to their lineup, too," Samardzija said. "You can't go in there just throwing the ball right down the middle; they're going to make you pay for it. There were times where I was trying to be a little too fine, but that was intentional."
There were a couple of free passes that Samardzija said he regretted, however.
"Those leadoff walks are the ones that hurt you," he said. "You're putting yourself in a hole right away."
A leadoff walk to Skip Schumaker in the sixth was costly. One out later, Tim Federowicz doubled Schumaker to third. Following a strikeout of Dodgers starter Chris Capuano, Carl Crawford lined a two-run single to go ahead 3-0.
Three Dodgers singles in the third inning led to their first run. With one out, Yasiel Puig reached on a bunt single to third that he beat out despite a barehanded pickup and throw by Cody Ransom. One out later, Puig moved to third and then scored on back-to-back singles by Andre Ethier and Jerry Hairston.
Cubs manager Dale Sveum said that while Samardzija battled, he couldn't spot his fastball.
"Like I said before, the fastball command [wasn't there], throwing strikes to get ahead, and he couldn't do it," Sveum said. " ... He battled and got the outs and kept the game close, but obviously the pitch count after six innings, 110 pitches or whatever it was, is way too many."
Meanwhile, Capuano -- who entered the game 9-3 with a 3.35 ERA in his career against the Cubs, including a 7-0 mark with a 1.55 ERA in his last nine starts against them -- tossed 6 1/3 shutout innings, scattering six hits, striking out five and walking one.
Capuano said he loves playing at Wrigley Field, which may partially explain his great success against the Cubs.
"Wrigley is a great place to play," the left-hander said. "It's like coming to a museum. It's like it was a hundred years ago, a great atmosphere to play in."
Sveum said that Capuano's changeup was his key to success Saturday.
"We obviously didn't make any adjustments on his changeup," Sveum said. "He dominated us and we kept swinging at changeups off the plate. He was throwing it at any time and we weren't doing anything with it or laying off of it."
The Cubs had their scoring opportunities but continued their season-long futility with runners in scoring position, coming into the game hitting just .226 in that situation on the year -- the second-lowest average in the Majors.
Welington Castillo opened the Cubs' seventh with a double to left. Starlin Castro followed with a line drive headed toward the right-center-field gap, but Puig made his second diving catch of the series to rob him of an RBI and extra bases.
Sveum said that was just an example of Puig being Puig.
"He's made a few of [those kinds of catches] this series already," Sveum said. "With that kind of closing speed you're going to see a lot of those kinds of catches in the future. That kind of speed and recklessness, you know, run into walls and make great catches ... hopefully his body stays in two pieces."
Sveum's concern for Puig's health on plays like that was well founded. The outfielder suffered a left thumb contusion on the play and is day to day.
Following the Puig catch, Nate Schierholtz singled, moving Castillo to third and chasing Capuano from the game.
Brandon League came on in relief and got Ransom to hit into a 5-4-3 double play to end the inning, a season-high fourth double play the Cubs hit into in the game.
"We hit some balls hard today [but] had double plays on a few of them, so, yeah, it's frustrating," Ransom said. "We started off the second half pretty good and this homestand has been the exact opposite. It's definitely frustrating."
With two outs in the eighth, Castillo came to the plate with the bases loaded, but Dodgers reliever Paco Rodriguez struck him out swinging.
"It's a broken record," Sveum said about his club's woes with men on base. "It just keeps continuing. We just can't seem to break a game open or get back in a game when we have chances to do it."
Even though the Cubs squandered opportunities, Sveum said you have to tip your cap to the Dodgers, who have won 30 of their last 37 games.
"That's what happens when you're hot and you've got the pitching they have, the bullpen and obviously two guys that are super hot over the last month, Hanley [Ramirez] and Puig," he said. "And you mix in the other pieces and you've got a pretty nice combination of a team that can [win 13 straight on the road]."
Manny Randhawa is an associate reporter for MLB.com. Follow him on Twitter at @MannyBal9. This story was not subject to the approval of Major League Baseball or its clubs.