Descalso recounts power display vs. Reds
Descalso recounts power display vs. Reds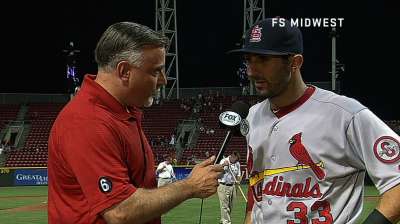 CINCINNATI -- Daniel Descalso knew the question was bound to pop up, and he was prepared.
"Once, in the Minors," Descalso said, when asked numerous times Friday night and Saturday afternoon if he had ever before clubbed two home runs in one game.
Descalso socked two in Friday's 13-3 win over the Reds for his first career multi-homer game in the Majors. The power display boosted his total to five homers this season, a new career high.
"I'm not trying to do that," Descalso said, "but I'm trying to hit the ball hard and sometimes it goes over the fence."
Descalso led off both the fifth and seventh innings with solo shots. He turned on a fastball in the seventh and tucked it inside the right-field foul pole as the ball landed in the Cardinals' bullpen.
The 26-year-old has five hits in his last 11 at-bats, and since a brutal April, in which he batted .164, the infielder has hit .305.
"I feel like I've been swinging the bat well since May," Descalso said. "I've just been trying to stay consistent since then."
Zack Meisel is a reporter for MLB.com. Follow him on Twitter @zackmeisel. This story was not subject to the approval of Major League Baseball or its clubs.