Mesoraco's two homers lead Reds over Cards
Mesoraco's two homers lead Reds over Cards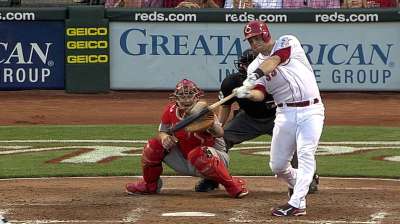 CINCINNATI -- The Reds needed a win any way they could get it on Saturday against the Cardinals. A sign of life from a struggling offense was an added bonus, as Cincinnati ran away with an 8-3 win over St. Louis in front of a sellout crowd at Great American Ball Park.
Entering the game having lost six of the last seven, the Reds broke through and scored as many runs on Saturday as they had in the those six losses combined. Catcher Devin Mesoraco led the way with the first multi-home run game of his career, but he had plenty of help, with seven different Reds collecting the team's nine hits and four different players accounting for at least one RBI.
"Nice to see some of those guys swinging again," Reds manager Dusty Baker said. "[Joey Votto] and [Brandon Phillips] had a good night. [Zack Cozart] was aggressive, so we looked pretty good tonight."
And after a night when the Reds were dominated in every facet of the game by the Cardinals, Saturday's effort, which moved Cincinnati to four games behind second-place St. Louis, couldn't have come at a better time.
Early on, Game 2 of the series felt very similar to the blowout that preceded it on Friday. Much like Bronson Arroyo the day before, Reds starting pitcher Tony Cingrani found himself in some early trouble when Jon Jay walked and Carlos Beltran doubled to give the Cardinals a 1-0 lead two batters into the game.
But as Cingrani has had a tendency of doing, he pitched his way out of a big-time jam. After fanning Allen Craig for the first out of the inning, a single from Matt Holliday in the next at-bat put runners on the corners for David Freese. Cingrani then struck out Freese with six straight four-seamers before inducing a flyout and escaping the inning without any further damage.
"He's always got the fastball in his back pocket where he can go to it whenever he really needs to make a pitch," Mesoraco said. "That's pretty much all it is. Most of the time you see when guys get on base, guys throw more off-speed pitches. I think it's the complete opposite with Tony. He goes out there and tries to get it even harder and throw it even more by a guy. It's definitely fun to watch."
It took Cingrani 30 pitches to make it out of the first inning, but he used just 62 more to breeze through the next four. Baker was impressed with the way Cingrani responded to adversity, especially against a lineup that scored 13 runs in each of the last two games, but he wasn't surprised. At dinner during the recent road trip, former Major League pitcher Mark Prior, who tried to make a comeback with the Reds this season and was a teammate of Cingrani's at Triple-A Louisville, told Baker that the 24-year-old left-hander isn't intimidated by any situation or the name on the back of the jersey.
"It more amps me up," Cingrani said. "Somebody that's Matt Holliday, he's trying to hit home runs and pull the ball. Beltran, same thing. It kind of amps me up a little bit more, and I try to throw a little bit harder."
Saturday's game wasn't all smooth sailing for Cingrani, who loaded the bases without recording an out in the sixth. Alfredo Simon and Manny Parra combined to get out of the inning with just two runs crossing the plate, though, and Cingrani finished the game allowing three earned runs on four hits and five walks while striking out seven.
"We had quite a few opportunities, but we had trouble picking [Cingrani] up," Cardinals manager Mike Matheny said. "I think quite a few teams have."
Fortunately, Cingrani enjoyed plenty of support en route to his fifth win of the season.
The runs started in the first inning when two walks and a single eventually loaded the bases with two outs for Jack Hannahan. With Todd Frazier struggling and right-hander Jake Westbrook on the mound for the Cardinals, Baker chose to go with the lefty Hannahan at third base on Saturday. That move paid immediate dividends, as Hannahan followed Bruce's walk with a two-run single, which Baker called the hit of the night, to give the Reds the 2-1 edge after one.
Cincinnati struck again in the fourth on Mesoraco's first homer of the night -- a two-run shot to left field. The Reds tacked on another run in the next inning when Phillips followed a Votto walk with an RBI double to deep center field.
In the eighth, Mesoraco connected on a solo shot for his eighth homer of the season and Choo chipped in with a two-run homer of his own to add some insurance.
In his last 15 games, Mesoraco is batting .333 (17-for-51) with four home runs and 12 RBIs. He credits much of his recent success to being the team's everyday catcher with Ryan Hanigan on the disabled list since July 11.
"Getting the additional reps always helps, especially when you know you're going to play every day," Mesoraco said. "You're not out there really pressing trying to get a hit because you're not going to be in the lineup. And when you're playing well, that breeds confidence. I feel confident at the plate, I feel confident in my swing, so I think I'm just going out there and trying to do my job the best I can."
Thanks to the cushion created by Mesoraco and the Reds, the bullpen had little trouble holding on for the win. Four relievers combined to pitch four innings without allowing a hit, and closer Aroldis Chapman capped it off with a pair of strikeouts in the ninth.
With a much-needed confidence-building victory under their belt, Mesoraco said the Reds now have to find a way to build off it.
"You can talk about it all you want, but at some point, you got to put a streak together," Mesoraco said. "You got to go out there and play good ball, do all aspects of the game -- pitching, offense and defense. Hopefully, this can get us on a little roll here and we can win some ballgames."
Jeremy Warnemuende is an associate reporter for MLB.com. This story was not subject to the approval of Major League Baseball or its clubs.