Gennett, Weeks to platoon based on matchups
Gennett, Weeks to platoon based on matchups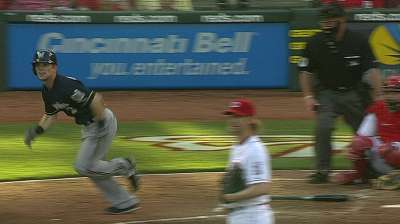 MILWAUKEE -- Brewers manager Ron Roenicke said Scooter Gennett and Rickie Weeks will each see playing time at second base based on pitching matchups during Gennett's stay with the team.
Gennett became the Brewers' 26th man for their doubleheader against the Cubs on Tuesday and he was technically called up from Triple-A Nashville the next day to take the roster spot of Yovani Gallardo, who was placed on the 15-day disabled list with a strained left hamstring.
"What we're going to do is just match up," Roencike said. "So, we're going to do that for a while, and then we'll see what happens."
Gennett made his Major League debut in early June and platooned with Weeks at second base for most of the month. He batted .214 (9-for-42) with a home run and five RBIs in 17 games and 10 starts at second base before getting optioned back to Nashville on June 26.
Weeks was hitting .184 when Gennett joined the team, but picked up the pace while sharing time at second in June. During Gennett's stay, Weeks hit .452 (19-for-42) with five home runs and nine RBIs in 14 games, 11 starts at second base.
But Weeks' production has fallen off since Gennett's return to Nashville. Entering Saturday, Weeks was hitting .175 (20-for-114) with two home runs and five RBIs in 32 games, 30 starts at second. He also made a costly error on Friday, whiffing on a likely double-play ball that resulted in a run.
Roenicke said Gennett may or may not stay with the team when Gallardo and Marco Estrada return from the disabled list.
"When Yo gets back, when Estrada gets back, we'll see if we stick with a five-man bench or a four-man one," Roenicke said. "I know it's nice to have five guys. Hopefully, we pitch well enough where we can continue to do that."
Kevin Massoth is an associate reporter for MLB.com. This story was not subject to the approval of Major League Baseball or its clubs.