Hand solid, but offense can't solve Haren
Hand solid, but offense can't solve Haren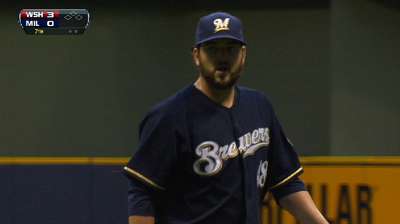 MILWAUKEE -- The Brewers entered Saturday concerned about an ailing pitching staff, but left worried about a punchless offense.
Donovan Hand pitched seven solid innings to spell an exhausted bullpen, but Nationals starter Dan Haren blanked the Brewers over seven innings, and solo home runs from Wilson Ramos and Adam LaRoche helped Washington roll, 3-0, at Miller Park to clinch the three-game series with a chance to sweep Sunday.
It was the first time the Brewers have been shut out since April 28, snapping an 86-game streak -- the longest such run in the Major Leagues. In the first two games of the series, Milwaukee has mustered only nine hits and one run.
So, was Saturday due to Haren's dominance or a lack of offensive pop?
"Haren was good, there's no doubt," manager Ron Roenicke said. "He was good. The cutter is a really good pitch for him. He's got great command with it. But I didn't think we swung the bat well, either."
The Brewers' first hitter of the night reached second base when Rickie Weeks led off with a double. But no other Milwaukee baserunner touched second -- outside of Yuniesky Betancourt, who slid into the bag after getting tagged out trying to stretch a single into a double to start the fifth inning.
Haren was simply too good.
"He'd been struggling a little bit, but he commanded all his pitches," center fielder Carlos Gomez said. "He threw the split, he threw the slider and a lot of cutters. I was looking at video and every time the catcher put up the glove, he hit his spot every time. That made him tough."
"To me, he made maybe one mistake in three at-bats," catcher Jonathan Lucroy said. "That split-finger he throws is really good, and when he throws that and locates, it's going to be a tough battle."
Haren won the bout on Saturday, surrendering only three singles and a double in his seven innings. He walked two and struck out six, while throwing 102 pitches -- 70 for strikes.
The 32-year-old right-hander entered Saturday in the midst of his toughest year as a big-leaguer, holding a 5-11 record and 5.49 ERA. He picked up his second straight win, though, and lowered his ERA to 5.14, the lowest it's been since the beginning of June.
"He's a guy that's been a very successful pitcher," Roenicke said. "I know he struggled early this year, but his last outing was really good and he brought that into this game and was really good again."
Ramos and LaRoche backed Haren with solo home runs off Hand in the fifth and sixth innings, respectively.
In the fifth, Ramos' drive off a 1-0 Hand slider carried over the left-center field fence and past leaping tries from Khris Davis and Gomez to put the Nationals up, 2-0. An inning later, LaRoche padded the cushion with a first-pitch opposite-field homer over Davis again in left.
LaRoche entered Saturday in a 14-for-91 (.154) skid with two home runs and 10 RBIs in his previous 25 games. He made outs his first two plate appearances, so when he stepped to the plate in the sixth, he was using teammate Jayson Werth's bat for a new feel.
"It got to the point where somebody mentioned it. I said, 'I would try anything right now.' I tried it and it worked out," LaRoche said. "It got to the point where my bats didn't feel good, so why not try somebody else's?"
The Nationals jumped on Hand for a second-inning run and a 1-0 lead. Werth led off the inning with a single and moved to second on LaRoche's groundout. After an Ian Desmond walk, Werth and Desmond took off on a double steal when Hand lost track of the baserunners. Anthony Rendon made him pay with a sacrifice fly moments later, as Werth's adept hook slide barely eluded the tag of Lucroy.
Davis likely saved another run -- and maybe two -- in the third inning with a leaping catch of Ryan Zimmerman's fly ball against the left-center field wall, just in front of Gomez, who has made the same catch several times in center this year.
But the damage had been done and Haren had all the support he needed.
"Homers are mistake pitches, but solo homers aren't going to beat you if you're swinging the bat OK, which we didn't, so they beat us, obviously," Lucroy said. "For the most part, [Hand] kept the game close and gave us a chance."
Hand's seven innings were important to rest an exhausted bullpen that was called upon early on Friday when Tom Gorzelanny was hit with a line drive in the second inning. Hand was denied his first Major League win, though, after allowing three earned runs on five hits, while walking one and striking out three. He threw 92 pitches, 59 for strikes.
"I threw pretty well, I got us through seven," Hand said. "Three runs, kept us in the game, but just got to be better. Gave up too many home runs. The pitch to LaRoche was a bad pitch, even the one to Ramos was a bad pitch. I didn't think they hit it that well, but it still went out, so it's a home run and a run for them. Just got to be a little better in that area.
"Overall, a solid outing. I'm happy with it. But a loss is never good."
Tyler Clippard threw a perfect eighth inning for the Nationals and Rafael Soriano pinned down his second save in as many nights and his 28th of the year with a 1-2-3 ninth.
Kevin Massoth is an associate reporter for MLB.com. This story was not subject to the approval of Major League Baseball or its clubs.