Haren continues rebound with seven scoreless in win
Haren continues rebound with seven scoreless in win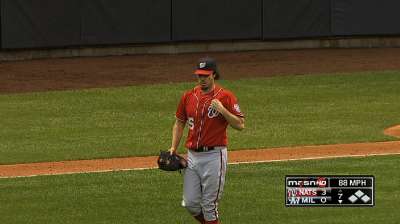 MILWAUKEE -- Right-hander Dan Haren pitched arguably his best game as a member of the Nationals on Saturday evening at Miller Park, as the Nationals blanked the Brewers, 3-0.
Haren pitched seven shutout innings, allowing four hits and striking out six batters. The first inning was the only time Milwaukee mounted any serious threat against Haren. Rickie Weeks led off with a double and then advanced to third on a sacrifice bunt by Norichika Aoki. After Jean Segura struck out and Jonathan Lucroy walked, Weeks was left stranded at third when Carlos Gomez lined out to shortstop Ian Desmond to end the threat.
"He'd been struggling a little bit, but he commanded all his pitches," Gomez said. "He threw the split, he threw the slider and a lot of cutters. I was looking at video and every time the catcher put up the glove, he hit his spot every time. That made him tough."
Since coming off the disabled list on July 8, Haren is 3-2 with a 2.40 ERA. The numbers prove that resting his shoulder was all he needed to be consistent on the mound again.
"After coming off the DL, my focus was just keeping the ball down, trying to keep the ball [in] the park and then getting a few more ground balls than I was earlier in the year," Haren said. " … If I'm going to miss, I'm going to miss in the bottom of the strike zone rather than the top, because I've been burned by home runs all year. I'm trying to work to get more ground balls."
Before he went on the DL, Haren had a 6.15 ERA. He had shoulder inflammation and missed two weeks of action.
"Going on the DL was a chance to regroup," Haren said. "Physically, I felt fine. It allowed me to hit reset and try to cut the year into two parts -- leave the first part behind and try to move on, move past it and try to help the team."
Catcher Wilson Ramos sees the difference in Haren these days.
"Right now, he is throwing 100 percent. He can throw every pitch at any count," Ramos said. "He has more confidence."
The Nationals started giving Haren run support in the second inning off right-hander Donovan Hand. With runners on first and third and one out, Anthony Rendon hit a fly ball to right field. Aoki caught the ball and threw a perfect strike to the plate, but Jayson Werth beat the throw and scored the first run of the game on an adept slide.
Ramos added to Washington's lead in the fifth inning when he homered over the left-center field wall for his seventh long ball of the season.
An inning later, at the suggestion of Desmond, Adam LaRoche borrowed Werth's bat and hit a home run over the left-field wall. It was LaRoche's 15th home run of the season. Prior to Saturday's action, LaRoche was 14-for-91 (.154) with two home runs and 10 RBIs in his previous 25 games. LaRoche got to the point where he was willing to try anything.
"It got to the point where somebody [Desmond] mentioned it. I said, 'I would try anything right now.' I tried it and it worked out," LaRoche said. "It got to the point where my bats didn't feel good, so why not try somebody else's."
Werth didn't know that LaRoche was using his bat until after the home run.
"When he hit, [LaRoche] was like, that's your bat. I came in acting like I was mad , but I was happy for him," Werth said.
Werth left the game in the middle of the sixth due to a groin injury, which he hurt an inning earlier while chasing a popup by Weeks. Werth most likely will not play Sunday, but hopes to be ready for the three-game series against Braves starting Monday night at Nationals Park. It marked the second time Werth injured his groin this year. The last time was in late June.
"It was more precautionary than anything," Werth said. "It's similar to what happened [in late June]. I just tweaked my groin a little. It's not nearly as bad as the last time I did it. It's more precaution. I took myself out, essentially. I just didn't want to [mess it up] to the point it was a more severe injury."
Tyler Clippard and Rafael Soriano blanked the Brewers in the eighth and ninth, with Soriano picking up his 28th save.
Bill Ladson is a reporter for MLB.com and writes an MLBlog, All Nats All the time. He also could be found on Twitter @WashingNats. This story was not subject to the approval of Major League Baseball or its clubs.