GM Hoyer says luck involved with waiver deals
GM Hoyer says luck involved with waiver deals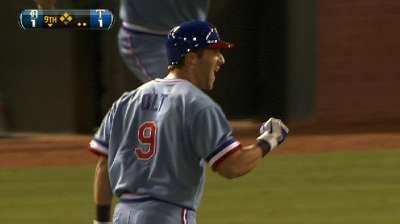 CHICAGO -- Cubs general manager Jed Hoyer said Saturday that while he expects the waiver trade period to be more active than the non-waiver period that expired with Wednesday's Trade Deadline, it's more a matter of luck than negotiation.
"I think it will be [more active]," Hoyer said. "But there's a lot of luck involved with the waiver part. If the wrong team claims a guy and won't give up any talent, you're kind of stuck, so waiver deals can work out, but you can also get stuck and not be able to make a deal. So you never know, and that's why you want deals in July."
As far as players being sensitive to having their names in trade talk, Hoyer said that it's more difficult with social media today, but players have to block trade talk out.
"I feel like with all the rumors and Twitter and everything, I think players have got to anticipate their names are going to be out there a little bit," he said. "And it's just kind of part of playing in a bigger market, and I don't think you can worry about it too much.
" … Unless you have a really long-term deal or unless you have a no-trade clause or something, I think in today's day and age, if you are a seller, then people almost talk about every guy on your team. When you're a winning team, no one brings up the players' names. So, I guess it's a good incentive to win, right? Your players don't have to worry about those rumors."
Manny Randhawa is an associate reporter for MLB.com. Follow him on Twitter at @MannyBal9. This story was not subject to the approval of Major League Baseball or its clubs.