Cubs designate Borbon, promote infielder Murphy
Cubs designate Borbon, promote infielder Murphy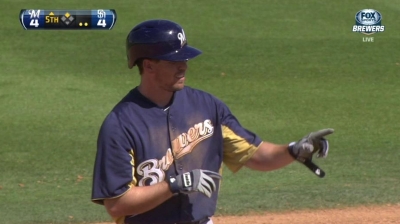 CHICAGO -- The Cubs designated outfielder Julio Borbon for assignment on Friday and selected the contract of infielder Donnie Murphy from Triple-A Iowa on Saturday as the corresponding roster move. Murphy was available to play in Saturday's game against the Dodgers.
The 30-year-old Murphy -- who spent two seasons with the Royals, two with the A's, and three with the Marlins -- was signed by the Cubs to a Minor League deal in April and had a .265/.338/.457 line with Iowa in 89 games, with 12 home runs and 41 RBIs.
The infielder has played in 244 Major League games, mostly at second base, shortstop and third base, but played the majority of his games in Iowa at short.
"Just talking to the guys that had him in Milwaukee, [he's] just kind of a gamer-type baseball player, a hard-nosed guy, can play a little bit of everything, has got some power," Cubs manager Dale Sveum said. "Obviously [in] his career he's had some strikeout problems, but [he's] just a baseball player that's going to battle and do all the little things that you want done."
In his final at-bat before being designated, Borbon doubled to lead off the ninth with the Cubs trailing the Dodgers 6-2 on Friday and was thrown out trying to advance to third on a ball in the dirt.
"That obviously was an unfortunate thing that happened," Sveum said. "But it is a point that, we just can't keep having those things go on and [Borbon] has had a few of those things himself. So it was just time to make an adjustment to the roster and see if somebody else can do the job."
Sveum added that the designation of Borbon was to send a message about careless play.
"One of the biggest things you try and do is, obviously you have talent, but you have to have a combination of talent and smart players that are always playing the game and thinking ahead and what's the score, and just the most common things you just cannot have happen in the course of a baseball season," Sveum said. "Because it's 162 [games], and if you look back and you do things like that in 162 games constantly, whether you lose one of them, that's too many because of things like that."
When asked whether in the aftermath of the Borbon play he was the most angry he's been all season, Sveum replied, "Probably."
"That was a frustrating play for sure," Cubs general manager Jed Hoyer said. "I felt like we had a situation where if nothing else we could've gotten a closer in the game, had a chance to have multiple baserunners. That also affects [Saturday's] game if their closer has to pitch a couple days in a row. We have to make better decisions, and hopefully that isn't us.
"We've had periods of our season, of the last year and a half, where we've played some solid baseball, and we've had some periods of sloppiness, and we've got to get away from those periods of sloppiness," Hoyer added. "You don't see really good teams do that stuff very often."
Manny Randhawa is an associate reporter for MLB.com. Follow him on Twitter at @MannyBal9. This story was not subject to the approval of Major League Baseball or its clubs.