Starting Fife would allow LA to rest other starters
Starting Fife would allow LA to rest other starters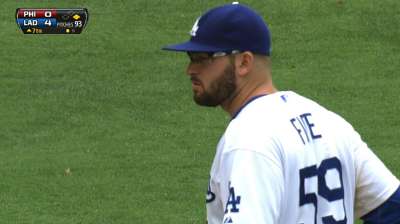 CHICAGO -- The Dodgers still have not confirmed plans to activate disabled pitcher Stephen Fife to start Sunday's game against the Cubs, but manager Don Mattingly on Saturday at least provided "hypothetical" insight into the club's thinking for doing it.
"If we push them back, there's no other reason than to give everybody an extra day," Mattingly said of the decision, which would allow Zack Greinke to start Monday against the Cardinals instead of Sunday against the Cubs.
It also means that Chris Capuano -- who has a 6.00 career ERA against the Cardinals and 7.90 ERA at Busch Stadium -- will miss that series and start Friday night at home against the Rays.
"We want to give guys extra days when we can. Hypothetically, this would be a good time."
But Saturday was not a good day to confirm it because Fife's activation after shoulder bursitis will require a corresponding roster move, which is why the Dodgers won't announce it until Sunday. Mattingly said there is another stretch of 17 days without a day off when the Dodgers might also use a sixth starter, but that will be in September after rosters expand.
Mattingly said none of his five starters is injured.
Ken Gurnick is a reporter for MLB.com. This story was not subject to the approval of Major League Baseball or its clubs.