De La Rosa, Rockies come up short vs. Bucs
De La Rosa, Rockies come up short vs. Bucs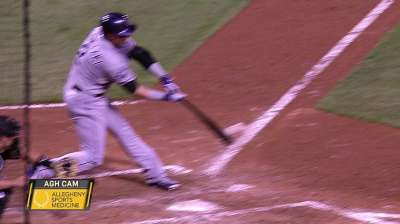 PITTSBURGH -- Reality matched the numbers on Saturday night. Pirates left-hander Francisco Liriano absolutely dominated. But the Rockies' lack of depth and inability to make much of the few chances Liriano gave them glared as weaknesses.
Liriano, who would be among the National League leaders in ERA had he not sustained a fractured right arm during the offseason and missed the first month-plus of the season, held the Rockies to two hits and struck out six in seven scoreless innings as the NL Central-leading Pirates won, 5-2, at PNC Park in front of a sellout crowd of 38,424.
The Rockies had a few opportunities, such as two on and one out in the first and third innings. Also, for all that Liriano (12-4) did right, he did walk five. But none of that resulted in runs.
"He's one of those guys, like the good ones are," said Rockies manager Walt Weiss, whose team fell to 1-5 on a 10-game road trip that has put dreams of climbing into contention in danger. "If you don't get him early, it makes it tough. He was real good. His command was real good with offspeed stuff, and his slider, he used well."
But in the first, Liriano fanned Michael Cuddyer -- in his first at-bat after missing two games for family reasons -- and forced a Wilin Rosario grounder. In the third, he was also facing the heart of the order with two on, but escaped with a Troy Tulowitzki grounder and a Cuddyer fly ball.
"When I walk guys it's because I'm overthrowing or trying to do too much," Liriano said. "When I get men on base, I try to tell myself not to do too much and hit my spot, and let the guys behind me make plays."
Yes, the offense had difficulties, but five of the first six hitters actually reached. However, innings died because Liriano simply cleaned up against the bottom of the order.
Right-handed-hitting Charlie Culberson, playing left field because leading run producer Carlos Gonzalez's sprained right middle finger hadn't healed sufficiently to let him start, grounded into a double play to end the third on an 0-for-3 night. Charlie Blackmon, a left-handed hitter forced into a poor matchup because there wasn't a righty-hitting outfielder available, hit into a double play to end the seventh and went 0-for-4.
It was also the second straight rough start for Rockies lefty Jorge De La Rosa (10-6), who gave up six hits, including Jose Tabata's leadoff homer in the fourth, and three runs in four-plus innings. Weiss removed De La Rosa after he walked Starling Marte and gave up a Jordy Mercer hit to open the fifth.
"Tonight wasn't one of his better nights -- behind lot of counts, made some mistakes, and we were ready for what he was bringing, and were able to control the at-bats," Pirates manager Clint Hurdle said.
The performance of De La Rosa -- who gave up eight runs, five earned, in his previous start at Atlanta -- raised questions about the condition of his left thumb, which flared on several occasions in July, but he dismissed that issue.
"There are no excuses," De La Rosa said. "This is the second bad game in a row. I have to fix that, quick, because I can't keep pitching like I pitched.
"I think I wasn't thinking. I didn't pitch today. I just threw the ball. That can't happen to me. I've got to get more focused."
Adam Ottavino replaced De La Rosa and gave up two runs and five hits in 2 2/3 innings -- just enough to made the task more difficult for the Rockies' offense.
With the Rockies trailing 2-0, Ottavino gave up an RBI single to Gaby Sanchez before getting Tony Sanchez to hit into an inning-ending double play.
Tabata tripled off Ottavino and scored on Josh Harrison's squeeze bunt in the sixth. Andrew McCutchen singled, stole second and scored on Gabby Sanchez's second single off Ottavino in the seventh.
The Rockies' saving grace was Liriano left after seven because he had thrown 103 pitches -- and lowered his season ERA from 2.16 to 2.02. Pinch-hitter Corey Dickerson, Dexter Fowler and Tulowitzki all singled off Tony Watson in the eighth, with Tulowitzki's hit breaking up a shutout. Cuddyer added an infield single off Bryan Morris, but Morris added to Rosario's 0-for-4 misery by forcing a rally-killing double play.
Mark Melancon pitched the ninth for his sixth save.
Thomas Harding is a reporter for MLB.com. Read his blog, Hardball in the Rockies, and follow him on Twitter @harding_at_mlb. This story was not subject to the approval of Major League Baseball or its clubs.