Uggla's hustle gives Braves nine wins in a row
Uggla's hustle gives Braves nine wins in a row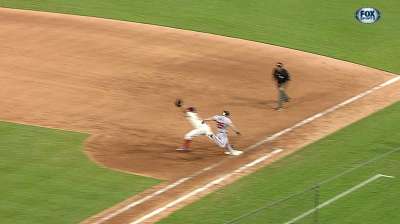 PHILADELPHIA -- Instead of delivering the knockout blow with another of those one-inning outbursts that had carried them through this week, the Braves made things interesting before Dan Uggla provided the hustle necessary to end a long affair in triumphant fashion.
Uggla's determination to beat out a potential inning-ending double-play grounder allowed Justin Upton to cross the plate and give the Braves a lead Craig Kimbrel preserved in Saturday's 5-4, 12-inning win over the Phillies at Citizens Bank Park.
"At that point in time, everybody is ready to go home and ready to go home with a [win]," Uggla said. "Everybody knows the situation. You have to beat the ball out to get a run there. So everybody is going to be busting it and giving it everything they got, whatever they've got left in the tank. That's what it takes to win sometimes."
After watching his club notch its ninth consecutive win, Braves manager Fredi Gonzalez recognized his bullpen, which allowed one hit -- Carlos Ruiz's 12th-inning single off Kimbrel -- over the final five innings. But he made a point to praise the hustle shown by both Uggla and Paul Janish, whose aggressive slide prevented second baseman Chase Utley from making a clean, unimpeded attempt to retire Uggla at first base.
"If you go in there tiptoeing and you give Chase a clean look at the first-base bag, they turn it and we end up not scoring a run," Gonzalez said.
This victory was certainly different than the previous five, during which the Braves had at least one inning of five or more runs in each win. On Saturday, Gonzalez's club notched just one hit after producing a three-run fifth that provided their first lead of the afternoon. But patience proved to be the key ingredient in an affair that lasted four hours and 10 minutes.
Phillies left-handed reliever Jake Diekman walked Upton to begin the 12th inning and then issued a one-out intentional walk to Evan Gattis before loading the bases with the four-pitch walk to Janish, who was making his first plate appearance since July 14.
This set the stage for Uggla, who sprinted toward first after hitting a grounder toward shortstop Jimmy Rollins. He beat Utley's throw, which pulled Kevin Frandsen slightly off the first-base bag.
"It's a big situation, and they kind of got themselves in a pickle," Janish said. "So it was probably magnified more than if it had happened in the third inning. It was just one of those things. But fortunately, it was enough to help us win the game."
The contributions provided by Uggla and Janish preserved what was a very encouraging effort from Brandon Beachy who surrendered four runs (three earned) and pitched into the seventh inning in what was his second start since undergoing Tommy John surgery last year.
"It's a step in the right direction, for sure," Beachy said. "The first couple innings, I was still kind of feeling for it. Then I settled in, bared down and made some quality pitches in succession."
Beachy's success was a product of his willingness to ditch his patented slider after hanging one that John Mayberry Jr. sent into the left-field seats for a two-run homer that gave the Phillies a 3-0 lead in the second inning. While complementing his fastball with his changeup and curveball, Beachy enjoyed a stretch of retiring 14 of the 16 batters he faced before surrendering the single Mayberry shot past third baseman Chris Johnson to begin the bottom of the seventh.
"I'm a better pitcher with [the slider]," Beachy said. "I'm going to keep working on it in the bullpen [sessions], and eventually I'll get the feel for that back and have that as a weapon."
With a comfortable lead atop the National League East, the Braves can continue sending Beachy to the mound even though it might be next year before he has full confidence in his ability to throw the slider with his surgically-repaired arm. And after this outing, they also have a sense that he has enough other effective weapons in his arsenal.
"The thing with Tommy John is you do all the rehab and you do all that stuff," Gonzalez said. "But in the back of your mind, you're wondering if it's going to hold up. But that just takes some time. I think you're going to see him get better and better."
After Beachy exited with a runner on second and one out in the seventh, Jimmy Rollins tied the game at 4 with his soft opposite-field double off Luis Ayala. The decision to use Ayala in this situation was the first indication that the Braves were hesitant to use Luis Avilan, whose only appearance since Monday came Thursday, when he threw 15 pitches in 1 1/3 innings.
Gonzalez said he was hoping to give Avilan one extra day to rest, but was eventually forced to use him. The left-handed reliever responded by providing a scoreless 11th inning that set the stage for the Braves to take advantage of Diekman's control and move one victory away from matching the season-best 10-game winning streak they set in April.
"Everything is going good for us right now," Janish said. "It's one of those things, you try to enjoy things while they're good. Right now, we're rolling. So we're going to try to not change things and stay hot."
Mark Bowman is a reporter for MLB.com. This story was not subject to the approval of Major League Baseball or its clubs.