Hosmer makes first start in right field this season
Hosmer makes first start in right field this season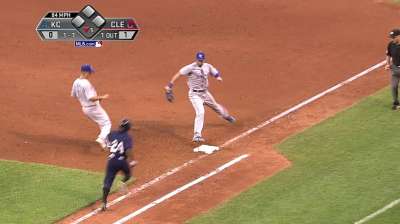 NEW YORK -- Almost the first voice that Eric Hosmer heard when he entered the visitors' clubhouse on Saturday was that of Rusty Kuntz, the Royals' first-base coach. More to the point in this case, the Royals' outfield coach.
"There he is, looking for me," Hosmer said, grinning as he started to change into his playing gear.
Hosmer had just looked at the lineup card posted on the bulletin board and saw, to his surprise, that he was playing right field and not first base in Saturday's game against the Mets.
"It shouldn't be that bad. I'm going to work with Rusty right now. I didn't see who's in center field, but I'll be guarding the line and he's going to be covering the rest of the ground out there," Hosmer said.
The center fielder was Lorenzo Cain and Hosmer figured he'd need all the help he could get for his first start in the outfield since Interleague Play last season at Pittsburgh. That lasted two games, long enough for Hosmer to get one putout, one assist and one error as a right fielder. He also played part of an inning in right at Minnesota in an emergency last September.
But Hosmer hadn't practiced his outfield work since Spring Training, so Kuntz took him onto the Citi Field turf and hit him some fly balls.
Manager Ned Yost's reason for the unusual move was simple.
"I've got to have some offense," Yost said.
Even before Friday night's 11-inning, four-hour, seven-minute loss, the plan was to give catcher Salvador Perez a day off Saturday. So if Hosmer didn't move to the outfield and open up first base for Billy Butler in the no-DH Interleague game, Yost would have a lineup without both Butler and Perez.
"So I've got to have that bat [Butler]," Yost said.
"It definitely affects your defense, but you can't have it both ways in a National League game, so you've got to pick what you need. And then hopefully we can get the lead and we can readjust in the sixth inning and get our defensive alignment right. But we've got to have the lead first."
As it turned out, the moves had little effect on the Royals' 12-inning, 4-3 victory over the Mets.
Hosmer never touched the ball in right field and Butler had routine work at first base, which he handled just fine. Butler was taken out, Lorenzo Cain moved to right field and Hosmer took over at first in the seventh when the Royals were ahead, 3-1. The lead melted away, but Justin Maxwell's game-winning homer took care of that.
The game took three hours, 46 minutes, but it seemed a bit longer to an exhausted-looking Yost, who employed 19 of his 25 players during the afternoon.
"I just got through a 15-hour game out there," Yost said.
Dick Kaegel is a reporter for MLB.com. This story was not subject to the approval of Major League Baseball or its clubs.