Maxwell's pinch-hit homer in 12th wins it for KC
Maxwell's pinch-hit homer in 12th wins it for KC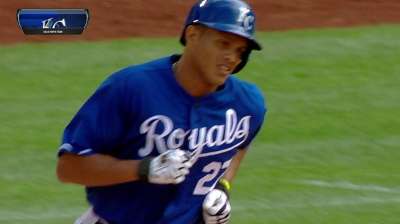 NEW YORK -- That trade for Justin Maxwell is looking pretty good for the Royals.
Maxwell, in just his third game in a Kansas City uniform, belted a pinch-hit home run in the 12th inning to push the Royals over the Mets, 4-3, on Saturday at Citi Field. It was the Royals' 12th victory in 15 games since the All-Star break.
"That's what we liked about Maxwell when we traded for him," Royals manager Ned Yost said. "He was a right-handed bat with power."
Maxwell, batting for winning pitcher Kelvin Herrera, led off the 12th inning against right-hander David Aardsma and drilled a 3-2 pitch down the left-field line and it carried into the stands fair by just a few feet.
"I got 3-0 and I'm like, 'I've got to take here because he hasn't thrown a strike,'" Maxwell said. "And then he laid one in there for me 3-2 and I took a good swing and I was just trying not to do too much and got a good pitch to hit."
For a second or two, it looked as if the drive might veer foul.
"I thought it was fair by a mile and then it looked like it was really hooking hard, hooking hard," Yost said. "And I can't see down that line. I don't know how close it was. ... I know he crushed it."
Closer Greg Holland put the Mets down in order for his 29th save and, bingo, the Royals had redemption for an 11-inning, 4-3 loss that snapped their nine-game winning streak on Friday night.
Herrera has had a chaotic summer, twice being demoted to Triple-A Omaha, as he tried to replicate his sterling rookie season of 2012.
"I said, 'All right, I've got to fight this battle and win it,'" Herrera said.
He'd pitched a scoreless inning on Friday night and took over in the ninth inning of Saturday's 3-3 tie. After two perfect innings, he issued a one-out walk in the 11th. but fanned Daniel Murphy and catcher Salvador Perez fired to catch Marlon Byrd trying to steal for a strike 'em-out, throw 'em-out double play,
"For me, Kelvin Herrera was as big as Justin Maxwell today," Yost said. "To come in and throw three innings just like that when our pitching was on fumes, really. It was huge."
On a day that began with the infield covered because of light rain and evolved into bright sunshine, the Mets struck the first telling blow. Murphy lined a home run to right field to lead off the Mets' second against Royals starter Bruce Chen.
However, the Royals snapped right back against right-hander Jeremy Hefner in the third as George Kottaras, starting in place of Perez, led off with a home run -- his fifth this season.
If that didn't startle Hefner enough, Chen followed with a base hit to left field. As it turns out, in his five years with Kansas City, Chen is 4-for-10 at the plate, a George Brett-like .400 pace. In miniature, of course. Chen said he was listening when Brett served as the Royals' hitting coach for two months this summer.
"Actually I did get some tips from George. He said just make sure you get your hands back and throw the bat at the ball. And that was my approach today," Chen said.
Hefner then gave up singles to Lorenzo Cain and Eric Hosmer, loading the bases with no outs. Chen scored on Alex Gordon's sacrifice fly and Cain on Miguel Tejada's single for a 3-1 lead.
It dissolved, however, in the eighth when Royals reliever Aaron Crow gave up three singles including a two-run ground-ball single by Josh Salin that got past shortstop Alcides Escobar. So it was 3-3 going into the ninth. So much for Yost's dream of bringing Holland in with a two-run lead in the ninth.
Maxwell was Yost's last bench player and he kept trying to figure how to use him best.
"We had him up two or three times and we were going to double-switch. Then the situation didn't come up. We were going to pinch-hit, then the situation changed," Yost said. "These National League games are a lot different from the American League games."
Maxwell, who put in time with the Nationals and the Astros when they were in the NL, knows that only too well.
"I've played this style ball before, National League ball, so you never know when you're going to have the opportunity," Maxwell said. "You just try to make the most of it."
With Herrera finished, Yost sent Maxwell out to hit for the pitcher against Aardsma and the count got to 3-0.
"You can't fall behind 3-0," said Mets manager Terry Collins. "You've got to get ahead in the count so you can use your pitches. You get yourself in a situation where they can sit on one pitch -- you're going to get hurt up here."
Oh boy, did he. Aardsma threw three straight fastballs -- one was a called strike, one was fouled off and one went bye-bye down the left-field line.
It was the fifth pinch-hit home run of Maxwell's career.
"Pinch-hitting is not easy. It's probably the toughest thing to do on the baseball field," Maxwell said. "You've got to be aggressive and be ready to hit because you never know when you're going to get a good pitch to hit and you can't miss it."
He didn't miss this one and, since being obtained Wednesday for Minor League pitcher Kyle Smith, Maxwell is 3-for-5 with a walk and one very important home run.
It put the Royals back in a winning mode.
"This was a hard-fought win," a drained Yost said. "I mean, this was as hard-fought a win as we've had in a long, long time."
Dick Kaegel is a reporter for MLB.com. This story was not subject to the approval of Major League Baseball or its clubs.