Yanks monitoring Jeter, but captain says he's fine
Yanks monitoring Jeter, but captain says he's fine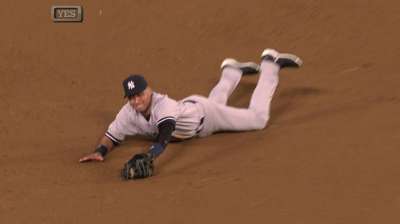 SAN DIEGO -- Every step Derek Jeter takes is watched closely from the Yankees' dugout, so it is not surprising that he was pulled aside for check-ins on his physical condition during Friday's 7-2 loss to the Padres.
"As we've talked about, he's coming back from a leg injury and I'm not so sure it's 100 percent," Yankees manager Joe Girardi said. "He's trying to grind through it for us."
Jeter has been told not to run full speed on ground balls to protect his right quadriceps, which he strained last month, and Girardi has offered only lukewarm assessments of Jeter's physical condition this week.
"I'm all right," Jeter said. "Like I've told you, if I play, you don't hear anything about it. I played, so I'm good."
The captain went 1-for-4 on Friday, sliding uncomfortably into third base after running from first base on Robinson Cano's first-inning single.
"It didn't look too good," Jeter said. "I was going to stand up and I decided to slide. I tried to slow down and it didn't look too good. I thought it would probably be easier just to try to slide as opposed to break it down, so I was confused."
He also got his feet tangled on a seventh-inning defensive play, prompting Girardi to check on the 39-year-old. Girardi surely was not surprised by the response he received.
"I was just making sure he was OK," Girardi said. "He said, 'Yeah, I'm fine.'"
Girardi has strongly hinted that he plans to rest Jeter for one of the games against the Padres, but he has not announced whether it will be on Saturday or Sunday. Jeter is 3-for-15 (.200) with a homer since being activated from the disabled list.
Bryan Hoch is a reporter for MLB.com. Follow him on Twitter @bryanhoch and read his MLBlog, Bombers Beat. This story was not subject to the approval of Major League Baseball or its clubs.