Heavy usage catches up with Blue Jays 'pen
Heavy usage catches up with Blue Jays 'pen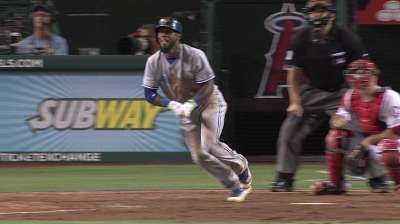 ANAHEIM -- The Blue Jays' bullpen has carried more than its fair share of the burden this season, and it was only a matter of time before the workload began to take its toll.
The relievers have combined to become Toronto's biggest strength, but as the innings continue to mount, the effectiveness has begun to suffer. Signs of wear and tear have crept in during the past two weeks and everything came to a head Friday night.
Right-hander Steve Delabar was roughed up for three runs in the eighth as the Blue Jays' bullpen once again was pressed into action during the early innings and this time couldn't shut the door en route to a frustrating 7-5 loss to the Angels.
"It's tough, every loss is tough, we were in position to win going into the eighth inning, and they came back and beat us. It was bam, bam, bam," Blue Jays manager John Gibbons said. "It's not a big lead but it's a one-run lead, we feel good about that, and they lowered the boom."
Delabar entered the game looking to bridge the gap to closer Casey Janssen but had trouble from the start. He allowed a leadoff double to Chris Nelson and was then caught off-guard by the Angels' tactics.
With a runner in scoring position and nobody out, the Blue Jays expected outfielder J.B. Shuck to lay down a sacrifice bunt. Instead, Shuck swung at the first pitch he saw and sent it just past the outstretched glove of Jose Bautista in right field.
The ball rolled all the way to the wall and Shuck ended up on third base. Disaster struck two batters later when Kole Calhoun connected on another first-pitch fastball from Delabar and crushed it over the wall in right field to give the Angels a two-run lead. Calhoun delivered the final blow, but the Shuck triple is what proved to be the turning point.
"We thought ... he was going to bunt," said Delabar, who leads all American League relievers with 75 strikeouts. "I just wanted to get strike one, don't want to walk a guy on a bunt situation. I just threw one right over the plate and he crushed it."
Delabar entered the game still fresh off his first All-Star appearance from mid-July. He owned an impressive 2.40 ERA, had five holds to his name, and earlier in the week became the first Blue Jays pitcher to strike out the side on just nine pitches. But he struggled Friday, and it resulted in Toronto's second consecutive loss.
Toronto exited the All-Star break with a perfect 34-0 record when leading after seven innings, but things haven't gone as smoothly since then. A fatigued bullpen has now blown a late-game lead twice in the past 11 days while Delabar, Brett Cecil, Darren Oliver and Juan Perez have all been roughed up for multi-run games over that span.
The recent woes can be directly tied to the lack of performance from the starting rotation. That was the case again on Friday night when right-hander Todd Redmond lasted just 3 2/3 innings before he had to be pulled from the game. It marked the 23rd time this season a Toronto starting pitcher failed to record at least five innings in a start, which is tied with the last-place Astros for the highest number in the Major Leagues.
"Really can't place blame anywhere," Delabar said of the workload. "We just get up whenever we're called, try to get up there and get the job done.
"You try to take the positives out of it ... and you focus on some of the negative and move past it because I have to be ready tomorrow if called upon."
Redmond cruised through his first two innings and escaped a jam in the third before his outing fell apart in the fourth. Redmond struck out the first two batters of the frame but then hit Erick Aybar in the leg and proceeded to allow four consecutive hits.
Los Angeles' first run came around to score on a single by Nelson, and then the big blow was off the bat of Chris Iannetta, who doubled to the gap in left-center field. Colby Rasmus nearly came up with the catch but had the ball bounce off his glove as he slammed into the wall, and two runners came around to score.
Redmond was optioned to Triple-A Buffalo after the game to make room for right-hander Brad Lincoln. The Blue Jays needed another arm in time for Saturday night's game after the bullpen was forced to throw 10 innings in the past two games alone. For a while on Friday night, it didn't look like such drastic measures would have to be taken.
"Two outs, hit a batter, steals second and all hell breaks loose," an exasperated Gibbons said afterward.
Toronto now drops to 2-3 on its current 10-game road trip through Oakland, Anaheim and Seattle. The club still has an opportunity to salvage a series split against the Angels by taking the next two games, but that won't be an easy task considering right-hander Jered Weaver is on the mound for Los Angeles on Saturday evening.
The Blue Jays dropped back to nine games below .500 and as the losses continue to mount, so too does the frustration inside of the Blue Jays' clubhouse.
"We cannot allow to let the game get away," said Blue Jays shortstop Jose Reyes, who hit a two-run homer in the sixth inning. "If we let that continue to happen we're going nowhere, we're going home in September.
"It's tough to play the way we've been playing, it's not acceptable because the kind of team we have, we're better than this. We're going to continue to fight, go out there every day and see what happens."
Gregor Chisholm is a reporter for MLB.com. Read his blog, North of the Border, and follow him on Twitter @gregorMLB. This story was not subject to the approval of Major League Baseball or its clubs.