Granderson's return lengthens Yanks' lineup
Granderson's return lengthens Yanks' lineup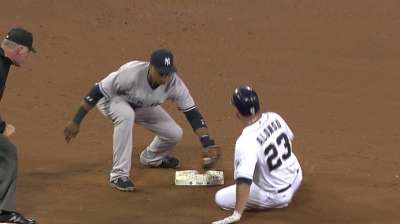 SAN DIEGO -- Curtis Granderson has often said that he does not consider himself a home run hitter, but for a Yankees lineup that has struggled to hit the long ball this season, his return should be a welcome addition.
Granderson was activated from the 15-day disabled list on Friday, and manager Joe Girardi slotted the 32-year-old fifth in the Yankees' lineup against the Padres, playing left field.
"We've seen what he's done since he's been here," Girardi said. "This is a power threat who can steal bases and can do a lot of different things. We're excited to have him back; we've just got to keep him here."
Granderson hit a career-high 43 homers last season for New York but has missed most of this year due to injuries, both of which were caused by hit-by-pitches.
He returned from a fractured right wrist in May and played just eight games before going back on the disabled list with a fractured pinky finger on his right hand, having been hit in a May 24 game against the Rays.
Granderson said he feels fine now and won't allow the injuries to affect the way he plays.
"I've been hit before," Granderson said. "It's not the first time. It definitely won't be the last. I had some games down in the Minor League rehab when balls were inside. I got hit running the bases, you know?
"All those things, the ball's gonna hit me at some point, but I've just got to go out there and keep playing. Can't play scared, can't play timid, just go out there and leave it out there for nine innings."
The Yankees entered play on Friday with an American League-low .368 slugging percentage and just 91 team home runs, which ranks 14th among the 15 AL teams -- only the Royals (69) have hit fewer. Girardi said that Granderson's return will lengthen the Yankees' lineup.
"Obviously, when we get our DH back in the lineup Monday, it changes that as well," Girardi said. "We've got him hitting fifth tonight. I don't know exactly where he'll hit every night, but he's a big power threat."
Granderson, who hit one of those 91 homers during his eight games, said that he won't be tempted to add to that total to make up for the shortcomings of his teammates.
"I've never really gone and tried to, and I think with this team here, the ability to hit home runs is there but the ability to score runs is also there," Granderson said. "You don't have to try to do it just with the long ball.
"There's speed in this lineup, there's guys who can move the baseball to both sides of the field. Up and down, one through nine, anybody can go ahead and drive in runs, which is a good thing. It's just a matter of getting everyone hot, and hot at the right time."
Girardi said that he plans to keep Brett Gardner as the everyday center fielder, but Granderson would see time in center field on days that Gardner is out of the lineup.
Bryan Hoch is a reporter for MLB.com. Follow him on Twitter @bryanhoch and read his MLBlog, Bombers Beat. This story was not subject to the approval of Major League Baseball or its clubs.