Yanks give Nunez a shot at playing third base
Yanks give Nunez a shot at playing third base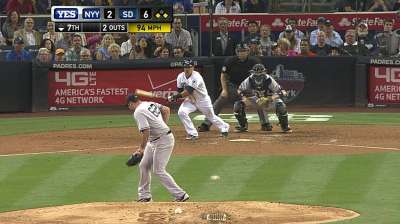 SAN DIEGO -- The Yankees are giving Eduardo Nunez another audition at third base, and the review process began on Friday night against the Padres at Petco Park.
Nunez took ground balls at the hot corner on Wednesday in Los Angeles and was informed that he would start at third base against the Padres, though he didn't know which day.
"We're going to give him a shot there," Yankees manager Joe Girardi said. "We'll evaluate every day what we think, but we're going to give him a shot."
Asked how he felt about the workouts going into Friday's game, Nunez said with a laugh, "I think it's not enough," quickly adding, "I've been in this situation before."
The Yankees are trying to find ways to get Nunez's bat in the lineup with Derek Jeter playing shortstop; Brent Lillibridge and Jayson Nix are their other options at third base.
After being signed as a shortstop, the Yankees attempted to shift Nunez into a utility man role but abandoned the experiment early last season after a rash of errors, saying at the time that Nunez would only play shortstop moving forward.
"He's still going to have to play short," Girardi said. "We're just hoping that the maturity and the couple years of doing it, playing well at shortstop this year will give him the confidence to do it. But part of it is based on need."
Bryan Hoch is a reporter for MLB.com. Follow him on Twitter @bryanhoch and read his MLBlog, Bombers Beat. This story was not subject to the approval of Major League Baseball or its clubs.