Gibbons weighing options to help JJ get right
Gibbons weighing options to help JJ get right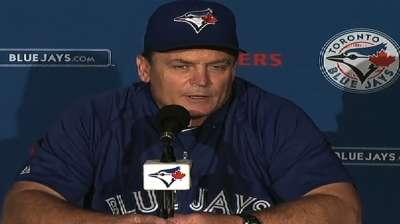 ANAHEIM -- The Blue Jays continue to search for the reasons behind Josh Johnson's prolonged struggles on the mound, but one answer could be a nagging knee injury that won't seem to go away.
Toronto manager John Gibbons revealed earlier in the week that Johnson has been dealing with tendinitis in his left knee but wasn't in danger of missing any time.
The thought was that Johnson should be able to pitch through the soreness, but so far the positive results have proven to be elusive. Whether or not Johnson's woes are directly related to the knee injury is up for debate, but starting catcher J.P. Arencibia has taken notice.
"I know he has been battling with his knee too, and I think there's something to say when you're landing at that front knee and it's barking, it's not an easy thing to pitch with," Arencibia said.
Johnson has allowed at least five runs in all but one of his past seven starts. Since June 23, he is 1-6 with an 8.84 ERA while allowing 56 hits and 13 walks in 37 1/3 innings.
The results at the beginning of his recent outings have been even worse. The 29-year-old has allowed 21 runs during the first two innings of his past six starts and seems incapable of settling into any type of groove.
Arencibia said he's noticed Johnson dealing with the injury before every start, and although the fourth-year catcher stopped short of saying that's the reason behind the recent issues, it's also a natural conclusion to make.
"I can see the way he lands and I can see in the 'pen, him trying to warm it up, bouncing on it," Arencibia said. "It's a thing people forget, a lot of people play this game and battle through things. It's not easy to play this game at 100 percent, and when you're battling stuff, it's going to be that much [tougher]."
Throughout Johnson's struggles on the mound, the Blue Jays have maintained that his spot in the rotation is secure. That message slightly changed on Friday afternoon as Gibbons admitted for the first time that the club is currently weighing its options.
One scenario is to possibly skip Johnson's next start, which would give him more time to work through his problems in bullpen sessions. Another possibility -- one not addressed by Gibbons -- is that Johnson's sore left knee could eventually warrant a stint on the disabled list.
"We could, ideally you don't want to do that, but we have to get something done," Gibbons said when asked if Johnson could have his next start skipped.
"We have to get Josh straightened out somehow, we'll see how that goes."
Johnson is 1-8 with a 6.60 ERA in 15 starts this season. He has allowed 100 hits and 28 walks while striking out 78 in his 76 1/3 innings of work.
Gregor Chisholm is a reporter for MLB.com. Read his blog, North of the Border, and follow him on Twitter @gregorMLB. This story was not subject to the approval of Major League Baseball or its clubs.