Belt, Crawford support Bumgarner's strong outing
Belt, Crawford support Bumgarner's strong outing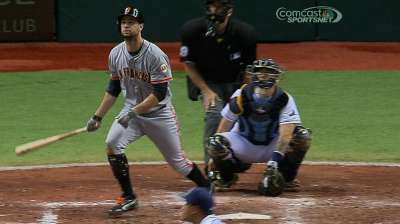 ST. PETERSBURG -- Brandon Belt's activity during the Giants' preceding three-game series at Philadelphia was limited to a pinch-hitting appearance. Yet he was anything but idle.
Manager Bruce Bochy asked Belt to devote his energy during that series to altering his hitting technique. The adjustments paid off in Friday night's series opener against the Tampa Bay Rays, as Belt lacked only a double to hit for the cycle as the Giants surged to a 4-1 victory.
Brandon Crawford contributed a two-run homer, and Madison Bumgarner matched a season high by striking out 11 in seven innings. But it was Belt's 3-for-4 effort that truly hit the ceiling at Tropicana Field, especially given the budding competition for the first-base job between him and Brett Pill, who went 7-for-13 against the Phillies.
Belt said that while watching Pill excel, "You want to kind of match that. I'm still rooting for my team no matter what. All I can do is worry about myself and worry about getting better. If I play better, I'll be out there."
Belt received his chance against Rays right-hander Chris Archer, who finished 4-0 with an 0.73 ERA in July and was coming off a two-hit shutout of the Yankees. Belt drilled a third-inning leadoff single for the Giants' first hit, homered with two outs in the fifth and tripled home Hunter Pence to break a 1-1 tie in the seventh. Crawford completed the three-run uprising with his second homer in a span of four at-bats, dating back to Wednesday.
Though the Giants and their fans are accustomed to Belt's fluctuating fortunes, the 25-year-old's apparent devotion to his Philadelphia tutorial suggested that he might have cleared a hurdle in his development.
Belt worked on relaxing his grip on the bat, which increased the speed of his swing and flattened his bat through the hitting zone. He also moved back in the batter's box, enabling him to see pitches longer. That particularly helped against Archer (6-4), whose fastball frequently exceeded 95 mph.
Belt attributed 60 percent of his instant results to improved hitting mechanics and 40 percent of them to his mental approach. He admitted growing a trifle impatient while sitting on the bench in Philadelphia.
"Being an athlete and being competitive, you want to be out there as much as possible," he said.
But his 1-for-19 slump made him realize that changes were necessary.
"There were some things I needed to work on so I could tap into my ability a little more," he said.
Belt's ability to connect with fastballs and offspeed pitches alike reflected his free-flowing skill.
"Everything I threw, Belt saw," Archer said. "I threw him some good sliders that he took. Fastball down, he crushed it. Fastball first pitch, he went the other way for a base hit. So I figured I'm going to try a changeup, you know? Mix it up. But he saw that well, too."
Crawford also sensed that he's regaining his stroke. He batted .283 through May before a sprained finger disrupted his momentum.
"Coming off that injury in June and July, I felt like I was feeling for my swing," he said.
Bumgarner (11-6) didn't quite have his usual feel. But he compensated by overpowering the Rays, most of whom had never faced him. His fourth double-digit strikeout game tied him with Miami's Jose Fernandez for second in the National League in that category, trailing only Mets right-hander Matt Harvey (six).
By allowing one run and seven hits in seven innings, Bumgarner recorded his ninth consecutive start in which he has pitched at least seven innings and yielded two runs or fewer. That's the longest such streak in the Major Leagues since Arizona's Randy Johnson met these standards for 14 consecutive games in 1999.
"Any time you're able to battle through when you don't necessarily have the command you're used to having, it makes it tougher kind of battling the whole time you're out there," Bumgarner said. "But I definitely feel good about it because you're going to have games like that. It's nice to work through them and give the team a chance to win."
Asked if he could have won under these circumstances at this time last year, Bumgarner replied, "I don't think so. I don't think there would have been the same results. I think I've improved a lot and learned a lot."
But even Bumgarner acknowledged that Belt was the evening's star pupil.
"He's been trying to make some adjustments and obviously it's paying off for him," Bumgarner said. "Hopefully he can start to become the player that he wants to be and everybody knows he can be."
Chris Haft is a reporter for MLB.com. This story was not subject to the approval of Major League Baseball or its clubs.