Archer's rough seventh too much for Rays
Archer's rough seventh too much for Rays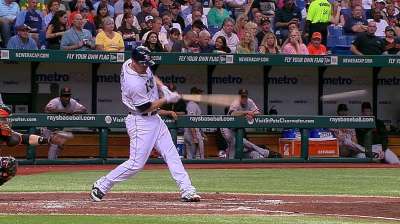 ST. PETERSBURG -- The calendar changed to August and Chris Archer was still pitching like it was July -- until the seventh inning when the Giants hung a three-spot on the Rays right-hander.
That late-inning outburst proved to be the difference in the Rays' 4-1 loss Friday night at Tropicana Field.
In defeat, the Rays (64-45) experienced consecutive losses for the first time since June 28, but remained one game back in the American League East as the first-place Red Sox fell to the D-backs, 7-6. Meanwhile, the Rays' Interleague record moved to 10-3 on the season.
Archer assembled a remarkable body of work in July when he went 4-0 with a 0.73 ERA and allowed just 17 hits over five starts in the month.
The 24-year-old right-hander appeared right on track to continue the magic when he posted four scoreless innings. Even when Brandon Belt homered leading off the fifth, it was just a solo home run. Archer still seemed under control.
The seventh brought a different vibe that began after two outs when Hunter Pence legged out an infield single. Belt followed with a triple to score Pence before Brandon Crawford cleared the bases with his seventh home run, a blast that landed in the right-field stands.
"I gave up an infield hit and then I made a pitch down to Belt, who was obviously seeing me good tonight," said Archer, who maintained he was not out of control in the seventh. "He put good wood on it. And then I felt like I made a pitch to Crawford, and he turned on it. Like I was making pitches, in my opinion. And they just were able to put them in play."
Archer finished the seventh before leaving the game. He allowed four runs on seven hits and three walks en route to his fourth loss of the season and his first since June 18.
"[Archer] was really pitch efficient," Rays manager Joe Maddon said. "He had two outs with nobody on in the seventh inning right there. And all of a sudden it broke loose, the chopper to third. And then Belt had a nice night against him. A ball off the wall, OK; the big play was the home run by Crawford. That really made it more difficult based on how well they had been pitching. So I thought Archie was very sharp. ... He was good, but they came through in that one inning and it happened very quickly."
Maddison Bumgarner allowed one run on seven hits to pick up his 11th win of the season.
"That's a good hitting team," said Bumgarner, who allowed that he did not have his normal command. "... Any time you're able to battle through when you don't necessarily have the command you're used to having, it makes it tougher kind of battling the whole time you're out there. But definitely feel good about it because you're going to have games like that, and it's nice to work through them and give the team a chance to win."
Ben Zobrist singled home the Rays' only run in the third. Other opportunities were prevalent throughout the game, but the Rays were just 2-for-10 with runners in scoring position.
"We've had a bad trend with that lately," Maddon said. "We have not been very good with runners in scoring position. I know that's going to come back to us. Right now that just happens to be going on. A little bit expanding the strike zone in crucial moments. But again, that's the ebb and flow of a season. I really have a lot of confidence that we'll come back from that."
Bumgarner recorded 11 strikeouts. Evan Longoria had two of them while going hitless in four at-bats. He has now struck out at least once in each of the last 22 games he has played. And hot-hitting Wil Myers saw his 12-game hitting streak snapped with an 0-for-3 performance.
The offense has scored just one run in each of Archer's last two starts, but the rookie had no complaints.
"Our guys are playing as hard as they can," Archer said. "Some nights what we don't do on offense we make up for on defense. ... Sometimes it's not about scoring runs. It's about pitching and defense, and I failed to come up with my end tonight in the seventh inning."
Archer managed to remain philosophical about the game he plays.
"Longo said it the best Wednesday night," Archer said. "He said, 'This game is always going to find a way to humble you.' The ball was bouncing the right way in July, and tonight, a few balls didn't bounce the right way. It's good to stay humble and continue to work. It's all just a reminder: You're facing Major League hitters. Just because you had a couple scoreless outings doesn't mean that they can't score four or five runs off you in one-third of an inning."
Bill Chastain is a reporter for MLB.com. This story was not subject to the approval of Major League Baseball or its clubs.