Sox slide continues despite Santiago's strong start
Sox slide continues despite Santiago's strong start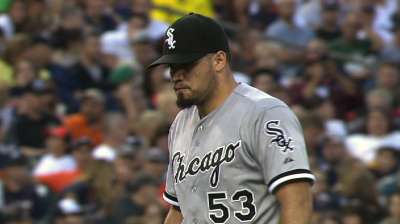 DETROIT -- It took 107 games, 67 losses and another game Friday night at Comerica Park where the White Sox were just good enough to lose a close one in front of 41,109 fans.
But following a 2-1 loss to the Tigers, marking an eighth-straight loss to tie a season-high, manager Robin Ventura inadvertently came up with the perfect catchphrase for his team's forgettable 2013 campaign.
"The game is cruel sometimes," said Ventura, after the Tigers dispatched his squad in two hours and seven minutes.
Cruel fits as one accurate description for the White Sox play.
How about frustrating, painful and above all else, disappointing for a team that expected to do no less than contend when it broke camp from Arizona at the end of March. Ventura's comment addressed an eighth-inning play that pretty much summed up the White Sox current misfortunes.
Dayan Viciedo opened with a single to right off of Detroit starter Doug Fister and Jordan Danks entered as a pinch-runner. Danks broke for second on a 3-1 hit-and-run call to Gordon Beckham, and Beckham, a solid contact hitter, laced the ball hard up the middle.
Just about the only problem was the ball hit the mound and fell right into the glove of second baseman Ramon Santiago, who was covering on the stolen base, and easily turned the double play. Instead of first and third, nobody out in a one-run game, Josh Phegley's strikeout ended the inning.
"I mean, it really is amazing the little stuff that seems like every single game that happens," White Sox first baseman Adam Dunn said. "You know, 3-1, Gordon hits a ball right where he's supposed to hit it. It just so happens [Santiago] is covering."
"That kind of thing isn't going our way and it hasn't gone our way," said White Sox starting pitcher Hector Santiago.
Santiago (3-7) was outstanding over seven innings and 106 pitches, allowing six hits and striking out seven with just one walk. Although Santiago wasn't pleased that he issued a free pass to Matt Tuiasosopo and gave up Prince Fielder's single with two outs and nobody on in the first, Ventura believed it was one of Santiago's better efforts among his 15 starts.
Ventura's praise drew agreement from Santiago, who feels as if he's developing and refining his own repertoire with each trip to the mound.
"Now I'm at the point where I can feel both of my sliders. I can feel the hard one and can throw the slow one in there for a strike," said Santiago, who added that he's getting ahead more with his screwball then he did earlier this season. "Earlier in the year, I didn't know if it was going to come out 80 [mph] or 70. I can actually feel it and know where I want to throw it. It's paying attention to that release point."
"He was good," said Tigers center fielder Jackson of Santiago. "It showed with two pitchers out there pitching great ballgames and we were able to score more than them and hold the lead."
In keeping with a running general theme for White Sox starting pitchers, who have a 2.73 ERA during this eight-game skid, two runs allowed by Santiago ended up being one too many.
Fister was a little bit better with the help of a White Sox offense that forced him to throw just 45 pitches over the first five innings. Fister yielded two-out singles to Alex Rios and Dunn in the first inning but didn't allow a runner to reach scoring position again until the sixth.
Alexei Ramirez doubled with two outs and came around to score on Rios' single to center. The sixth ended on the same play when Rios strayed too far off of first on Jackson's throw home, and Prince Fielder cut off the throw and chased down Rios.
Detroit (62-45) scored its first run in the fourth, when Fielder opened the inning with a double down the line and past Dunn's lunge at first. Fielder moved to third on Victor Martinez's long flyout to center, stayed at third on Jhonny Peralta's short fly to right and scored on Jose Iglesias' two-out single to right. Jackson homered with one out in the fifth, giving the Tigers their final margin of victory.
Dunn, whose two singles gave him 1,500 hits for his career, grounded out against Detroit closer Joaquin Benoit (11th save) with Rios at second as the tying run to wrap up the 20th time this season the White Sox have been held to one run or less. That's an awful lot of pressure to put on the pitchers.
"Maybe if the starters did a little more it would be a 1-0 game instead of a 2-1 game," said Santiago, putting even more pressure on the pitchers' shoulders before catching himself and taking a more realistic view. "You're not going to put that on yourself because it's a quality start and you give up two runs against a good lineup even without [Miguel] Cabrera."
This loss dropped the White Sox 27 games under .500 for the first time since ending the 1976 season at 64-97. It's a cruel 40-67 record, brought to that level by 11 losses in 12 games.
"That's just baseball," Ventura said. "It goes around."
Scott Merkin is a reporter for MLB.com. Read his blog, Merk's Works, and follow him on Twitter @scottmerkin. This story was not subject to the approval of Major League Baseball or its clubs.