Nelson making most of opportunity at third base
Nelson making most of opportunity at third base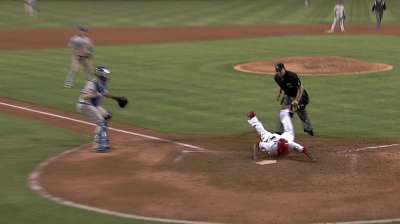 ANAHEIM -- When the Angels traded Alberto Callaspo to Oakland on July 30, the auditions began for the team's next third baseman.
Although Grant Green, who was acquired for Callaspo, and prospect Luis Jimenez may be options in the future, Chris Nelson is getting the first opportunity to show the Angels what he can do.
"I'm excited about the opportunity and I'm going to put my best effort forward," Nelson said.
Throughout his career, the majority of which was spent with the Rockies, Nelson has played all over the field, but third base certainly is not foreign to him.
"Down in the Minors I was playing shortstop, I came up as a shortstop," Nelson said. "Second, I played second for the Rockies for a while. Played third for the Rockies for a while, got used to playing all three positions."
Nelson put his words into action as he made several strong defensive plays in the Angels' 8-2 win over the Blue Jays on Thursday night, something that was not lost on manager Mike Scioscia.
"He made some tough plays look easy last night, and that's important to us," Scioscia said.
Friday was Nelson's 10th game with the Angels this season, and Scioscia has been pleased with Nelson's talent.
"He has a very strong skill set and a skill set that says he can play in the Major Leagues," Scioscia said. "What a player does with an opportunity, how productive he is, remains to be seen. Chris has been waiting for an opportunity for a while and he is getting one now."
William Boor is an associate reporter for MLB.com. This story was not subject to the approval of Major League Baseball or its clubs.