Division lead narrows as A's fall to Rangers
Division lead narrows as A's fall to Rangers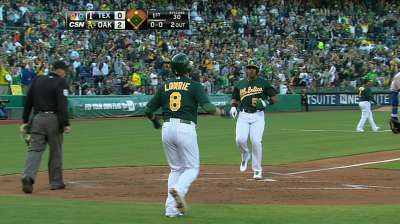 OAKLAND -- The A's exited last weekend with a secure six-game division advantage over the Rangers. With this weekend now upon them, that lead has shrunk to 2 1/2 games.
Oakland's third straight loss Friday night and seventh in 11 tries against Texas, an 8-3 defeat at the Coliseum, represented the Rangers' fifth straight win.
And suddenly, as was anticipated despite the Rangers' inability to gain any ground in the West for 32 consecutive days, from June 24 to July 29, the race is on again.
"It's August 2," said Brandon Moss, who finished with two hits. "You see other people watching the scoreboard, the standings, and I'm like, 'Do you realize how many games back we were on September 1 last year?'
"You never know where things are going to end up. They've played us well all year. I think they've definitely had our number a little bit, so we need to come out and win some games and get some confidence going and finish out the homestand positively."
These A's, once sprinting to the finish-line, are dragging, having lost more than two straight games for the first time since dropping five in a row May 6-10. Mostly because their strength has recently been their weakness.
Oakland's starters have not looked their typically dominant selves since returning for a 10-game homestand, posting a 5.56 ERA through the first eight games and offering up 27 earned runs in 43 2/3 innings, with nine home runs.
Lefty Tommy Milone gave up two on this night, both two-run shots that helped the Rangers wipe away an early A's lead gained off Moss' two-run double in the first.
Between homers from Nelson Cruz and Jurickson Profar, Milone let another pair score in the third, his night ending with two outs in the fourth, a season-high-tying six runs already having crossed home plate in what would turn into yet another loss against the Rangers. Milone has yet to beat them in five starts, in which he has posted a 5.67 ERA.
Oakland's lefty, who has a 4.81 ERA over his last 14 starts after compiling a 3.71 ERA through his first four, threw 12 straight strikes to start the night but unraveled thereafter.
"Pretty terrible," Milone said. "I really wasn't able to get anything going. They did a good job of hitting the mistakes I threw in there. I felt like I was throwing some good pitches early on, and then they started getting on base, and I just couldn't make that big pitch.
"I felt fine early on, in the bullpen and the first inning. Even the second inning, it was one bad pitch to Cruz. From the third on, it just escalated."
"With him, it's just more about command and making bad pitches when he's ahead," manager Bob Melvin said. "He didn't make the big pitch when he had to."
Rangers starter Alexi Ogando did, despite laboring just as much as his counterpart, and his teammates compiled five subsequent scoreless innings.
Texas' right-hander needed 92 pitches to get through his four innings, compiling three-ball counts against eight of his first 11 opponents, walking four of them. Ogando finished with five walks, throwing more balls than strikes, yet did not allow the A's to truly capitalize on his woes, miraculously limiting them to three runs.
Oakland left 10 on base and went just 1-for-7 with runners in scoring position.
"I felt like we were having good at-bats, we were making him work, but even though he was getting in trouble and getting his pitch count up and we were extending at-bats, he was able to get outs," Moss said. "I don't think he had many strikeouts, so you can't say we're not putting the ball in play. Once you put it in play, you can't control where it goes."
"It's frustrating," Melvin said. "We're getting the opportunities, and if you continue to give yourself opportunities you're going to break through at times. And it did seem like we were looking like we were swinging the bats like we're capable of, and then we've just been a little bit stagnant since. We've been getting the baserunners; we're just not getting the hits when we have the opportunity."
Jane Lee is a reporter for MLB.com. Read her blog, Major Lee-ague, and follow her on Twitter @JaneMLB. This story was not subject to the approval of Major League Baseball or its clubs.