Homers, bullpen help pull Rangers closer to A's
Homers, bullpen help pull Rangers closer to A's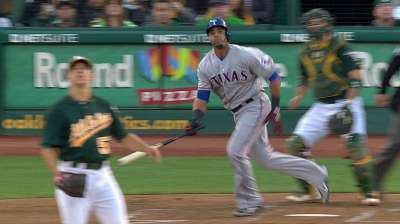 OAKLAND -- Nelson Cruz has a possible suspension hanging over his head, but that has not stopped him from staying productive at the plate.
"When you go out on the field, thinking about winning is easy," Cruz said. "The other stuff is hard to deal with it, but you're able to separate it."
Nothing seems to be bothering the Rangers right now, with the offense starting to roll up and down the lineup.
A.J. Pierzynski drove in three runs with a couple of broken-bat singles, while Cruz and Jurickson Profar each hit home runs that lifted the Rangers to an 8-3 victory over the Athletics at the Coliseum. The Rangers now trail the A's by 2 1/2 games in the American League West and are tied with the Orioles for the two Wild Card spots.
The Rangers went 32 days without gaining any ground on the Athletics. They have now gained 3 1/2 games in the past four days and have two more days to whittle deeper into the Athletics' lead in the division.
"It was a very important win," Rangers manager Ron Washington said. "We're playing good baseball. We got the opportunity to come out and continue that. That's what we're trying to do, continue to play good baseball. These are the guys we're chasing, so it's nice to have the first one under our belt."
The winning streak is tied for the longest by the Rangers this season. During the streak, the Rangers are hitting .331 with a .569 slugging percentage. Prior to this, the Rangers had lost 12 of 15 while hitting .232 with a .335 slugging percentage.
"This is what we're capable of doing," Cruz said. "We got into a slump, now I think we're out of the slump. It couldn't come at a better time."
Rangers starter Alexi Ogando went four innings, allowing three runs on four hits and five walks while striking out one. He threw 92 pitches, and the five walks were a career high. Three of the walked batters ended up scoring. Ogando has yet to pitch more than five innings in any of his three starts since coming off the disabled list.
"I just didn't feel good tonight," Ogando said. "I didn't have my control like I normally do. It was just one of those nights."
The Rangers held on because five relievers combined for five scoreless innings. Jason Frasor earned the win in relief by getting the biggest out of the night. The Rangers were up, 6-3, when he entered the game in relief of Robbie Ross with the bases loaded and two outs in the fifth. He got pinch-hitter Alberto Callaspo to fly out to end the inning.
"I think everybody in the stadium knew that was a big situation," Frasor said. "I think I set a record bouncing eight warmup pitches. I upset the umpire, because he had to give me eight new balls. It was a miracle I got strike one, but I got another one and the fly out."
The relief work was timely. Rangers relievers had a 5.73 ERA in their last seven games while allowing 30 hits in 22 innings. They allowed just three hits in five innings Friday night. The Athletics were 1-for-7 with runners in scoring position, with the only hit being a two-run double by Brandon Moss in the first inning that gave the Athletics a 2-0 lead.
"I felt like we were having good at-bats," Moss said. "We were making Ogando work. ... I don't think he had many strikeouts, so you can't say we're not putting the ball in play. Once you put it in play, you can't control where it goes. Sometimes it just happens. I think any of us, instead of maybe hitting two or three balls hard, we would've taken Pierzynski's night, where he broke three bats but had three RBIs."
After Moss' two-run double, Cruz brought the Rangers right back in the second inning when he hit a two-run home run off of Athletics starter Tommy Milone. It was his 26th home run this season.
The Rangers got another rally going in the third when Leonys Martin and Elvis Andrus led off with singles, putting runners on first and second. Ian Kinsler followed with a flyout to left-center. Martin tagged up and went to third, drawing a throw from center fielder Coco Crisp. That allowed Andrus to move up to second. Adrian Beltre's grounder scored one run, and Pierzynski's single brought home a second run.
Profar's two-run homer in the fourth made it 6-2. The Athletics brought home a run in the bottom of the inning on a leadoff walk to Josh Reddick and a two-out double by Crisp. But the Rangers came back with two in the seventh on a two-run single by Pierzynski.
"It has been fun," Pierzynski said. "It was nice to go home and play well and sweep Anaheim, and then coming here and winning the first game is huge, especially with the way the first inning started. It felt like it was going to be a long night, but fortunately Ogando and the other pitchers settled down and got us through it."
The Rangers had 12 hits, with at least one from eight of the nine starters.
"We've finally put it together," Washington said. "It's been here the last five games, up and down the lineup. When we put runs on the board, that's what we do, get it from everybody up and down the lineup."
T.R. Sullivan is a reporter for MLB.com. Read his blog, Postcards from Elysian Fields, and follow him on Twitter @Sullivan_Ranger. This story was not subject to the approval of Major League Baseball or its clubs.