Cashner limits Yanks as bats take care of business
Cashner limits Yanks as bats take care of business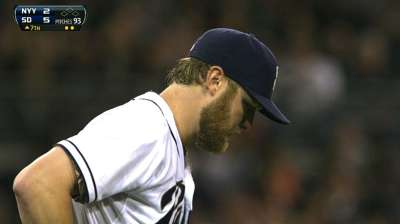 SAN DIEGO -- No offense to Mariano Rivera, but Padres manager Bud Black would just as soon not see the Yankees' closer and all-time saves leader once this entire weekend.
"Hopefully, fans can see him before the game ... and not during it," Black said.
There was certainly no need for Rivera on Friday night, as the Padres got to CC Sabathia early on their way to a 7-2 victory over the Yankees in front of a sold-out crowd of 44,124 at Petco Park.
The Padres (51-59) got home runs from Logan Forsythe, Jedd Gyorko and Will Venable on their way to a lopsided victory over the Yankees (56-52), an impolite greeting to be sure for New York's first visit to San Diego's downtown ballpark.
The Padres' offense, which pounded out 14 hits, and the pitching of right-hander Andrew Cashner helped make the start of this series one worth remembering.
For different reasons, of course.
There was the pregame ceremony with former Padres closer Trevor Hoffman handing over a brand new beach cruiser to Rivera, the man who passed Hoffman for the all-time saves lead.
Then there was the capacity crowd, a loud and lively bunch that Gyorko would just as soon play in front of every night.
"It was great, probably the best crowd since I have been here," Gyorko said. "I don't see any reason why we can't have crowds like that every single night, so it was good to see them come out and support us."
Said Cashner of the crowd: "It was electric from the first pitch."
The Padres got to Sabathia (9-10) for two runs in the first inning and then two more runs in the fourth inning, as Forsythe had a solo home run and Everth Cabrera -- as part of a four-hit night -- had an RBI triple.
All told, Sabathia allowed five earned runs on 11 hits with three walks and four strikeouts in his 5 2/3 innings.
"The key to the game today was our ability to lay off the low pitch. We laid off a lot of borderline low pitches," Black said. "We had some good opposite-field swings, too. We put the pressure on him."
The Padres chased Sabathia with a run in the sixth inning, when Chris Denorfia took a fastball away to right field for an RBI single. Gyorko and Venable hit their home runs off Yankees relievers.
"It's been some different things," Yankees manager Joe Girardi said of Sabathia. "Today, he gave up a lot of ground-ball hits. You look at the first inning, two ground-ball hits."
For Gyorko, it was his first home run since June 7, though he did miss 30 games with a right groin strain. He entered Friday's game hitting .100 (5-for-50) in his first 13 games since coming off the disabled list.
"I'd been struggling and I put a couple good swings earlier in the game that didn't just quite drop in," he said. "So it was good to finally get that one so I can build off that from there."
There wasn't much for the Yankees to build off Friday, though they squared up a few balls while facing Cashner (8-5), who allowed two runs on seven hits over seven innings. Most of those balls the Yankees squared up were hit right at Padres defenders.
"I thought the results were really good for Cash," Black said. "The last three or four starts leading up to this, his changeup wasn't effective. But tonight, it was good. The fastball was good, too. It had them dancing."
After scoring twice in the second inning, the Yankees didn't score again. They finished with seven hits -- only three of which came after that second inning.
Cashner, who has won his last three starts and hasn't allowed more than three earned runs in each one of them, said he has room to improve.
"I thought I pitched OK tonight," he said. "I thought our defense played really well behind me and made some plays, got out of some tough spots.
"But I think there's a lot of room for improvement. I've got to command my fastball, throw my slider."
Cashner, who collected his 10th hit of the season in the fourth inning, was most happy with the way he was able to score from first base in the fourth inning on the RBI triple by Cabrera.
"I thought the biggest part of the game for me was going from first to home and coming back out and throwing up a zero," he said.
Corey Brock is a reporter for MLB.com. Keep track of @FollowThePadres on Twitter. This story was not subject to the approval of Major League Baseball or its clubs.