Skipper agrees Longoria's struggles are mental
Skipper agrees Longoria's struggles are mental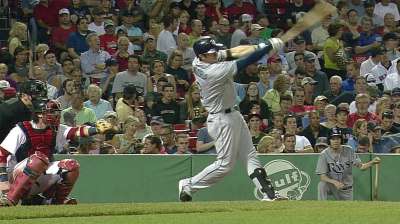 ST. PETERSBURG -- Rays manager Joe Maddon often gives his players personal instruction during pregame batting practice. He does not often give such advice to Evan Longoria, as he was before Friday's game.
The Rays' 21-5 record in July marked their best month in team history, but Longoria, a three-time All-Star and widely considered to be one of Tampa Bay's best hitters, had the second-worst month of his career at the plate.
The most remarkable thing about the Rays' record month might be that Longoria hit just .194 in 25 July games. He struck out 37 times, a personal record in any month.
Maddon has seen something change in Longoria's approach, but he cannot quite identify what it is.
"It has to be a lot of what he's thinking about," Maddon said. "Primarily, it's the classic moments where you're swinging at balls and taking strikes. He just has to clear his mind a little bit and let it fly. He does not look different from a physical perspective. I think he's just thinking differently."
Longoria, who was bothered by plantar fasciitis in his right foot last month, said everything is fine from a physical perspective.
"It's definitely mental when you get to a point where you've had a couple of tough games in a row and you start to wonder why it's not happening," Longoria said. "Throughout the course of my career, I've been able to be mentally stronger than those and figure out the reason why and be able to put it behind me."
Longoria did hit four home runs in July and posted an 11-game hitting streak. He is one of just four Major Leaguers to have three hitting streaks of 10 games or more this season.
Bill Chastain is a reporter for MLB.com. Sam Strong is an associate reporter for MLB.com. This story was not subject to the approval of Major League Baseball or its clubs.