Willingham, outfield reinforcements on the horizon
Willingham, outfield reinforcements on the horizon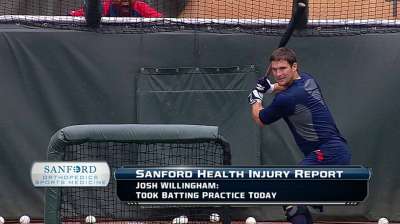 MINNEAPOLIS -- The Twins outfield situation has been about as stable as the San Andreas Fault this year, but manager Ron Gardenhire could soon be receiving reinforcements, led by the return of the team's leading home run hitter from last season.
Left fielder Josh Willingham took batting practice at Target Field before Friday's game against the Houston Astros, and Gardenhire said it's possible that he could return within the next week to 10 days. The 34-year-old slugger, who has been on the disabled list since undergoing surgery to clean up his left knee on June 3, is expected to begin a rehab assignment with Triple-A Rochester on Monday, with a return to the Major League lineup a few days after that.
"He's running around," Gardenhire said as the Twins finished a round of batting practice on Friday. "We'll eventually get him on a rehab [assignment]. We've got a nice program set up for him. It looks like he's scheduled, if everything goes well, to rejoin us in Chicago at the end of this next trip. And that's if everything goes according to plan."
The Twins face the White Sox at U.S. Cellular Field Aug. 9-11, and they'd welcome the return of the man who led the team with a career-high 35 home runs and 110 RBIs last year. On Friday, Willingham took a round of infield and ran the bases as his teammates took batting practice, then stayed on the field for a solo round of BP, during which he launched a handful of balls over the fence as he worked on refining a swing that hasn't seen game action in two months.
Willingham is hitting .224 with 10 home runs -- tied with Trevor Plouffe for the team lead -- and has 37 RBIs.
With regard to other outfielders whose return is on the horizon, Darin Mastroianni started in left field and batted leadoff on Friday night for Class A Advanced Ft. Myers. Wilkin Ramirez -- out since suffering a concussion on May 25 -- began a rehab assignment at Double-A New Britain on Monday.
Both Mastroianni and Ramirez are candidates to fill a gaping hole in center field with Thursday's demotion of Aaron Hicks to Rochester. Clete Thomas started in center on Friday, and he's the only player on the 25-man roster with center-field experience. Gardenhire chuckled when asked before Friday's game about his backup plan in center.
"Do I have a second center fielder in the house? Sure I do. And when I have to put one out there, you'll know who he is, too," Gardenhire said. "Let's not talk about that ... it makes me nervous. I've got one right now."
Patrick Donnelly is a contributor to MLB.com. This story was not subject to the approval of Major League Baseball or its clubs.