Twins put in a little extra work before Friday's game
Twins put in a little extra work before Friday's game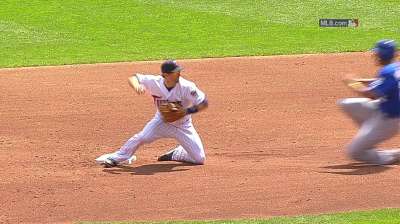 MINNEAPOLIS -- After his team played one of its worst games of the season, Twins manager Ron Gardenhire turned to the adage that a little hard work never killed anybody.
The Twins put in extra work before their usual round of batting practice on Friday at Target Field as they tried to clear the funk lingering from Thursday's 7-2 loss to the Royals. In that game, the Twins committed one error, made a handful of other miscues in the field and on the bases, and allowed the Royals to score in five consecutive innings while getting outhit, 11-5.
Thus, Gardenhire figured some extra sunshine and sweat would help his charges turn the page with a three-game series against Houston set to begin.
"Just get 'em out early, get the bad taste of that game out of the way," Gardenhire said of his reasoning. "That wasn't very fun for anybody involved. We were pretty sloppy. So just get out there to reinforce and talk about a few things we needed to do and what I'd like to see from here on in."
Injuries have forced the Twins to rely on backups -- and backups to backups -- at many positions, and many players have found themselves in unfamiliar spots. Take Ryan Doumit and Chris Herrmann, catchers who have been forced to share right field thanks to injuries to three outfielders.
"We've got a lot of people playing a lot of different positions. We've got catchers playing right field and things like that," Gardenhire said. "So it's just about making sure we understand what we're supposed to do with the ball, protect the ball, [hit the] cutoff man instead of launching it in the air.
"I want my middle infielders out getting the ball, and I want to make sure they understand that," he continued. "We're getting too close to the bag on relays, [with] two guys standing next to each other. So it's about the fundamentals, getting back to doing what we'd been doing very, very well. [Thursday] was sloppy, and I just thought it was as good a time as any -- we just got swept at home, so why not have a little workout, get their minds right and go from there."
Patrick Donnelly is a contributor to MLB.com. This story was not subject to the approval of Major League Baseball or its clubs.