Towers still believes in 25-man roster
Towers still believes in 25-man roster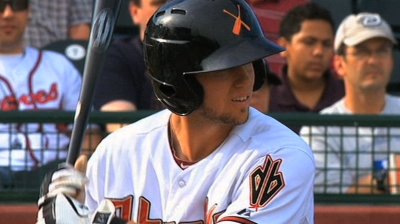 BOSTON -- Not long ago, manager Kirk Gibson said he was hoping to have a more set starting lineup as the season wore on, but he is still searching for the right combination to settle on.
"I think what's made it difficult for him, we are a versatile team, but the problem is we have so many guys that are having down years," general manager Kevin Towers said. "It's hard for him to have a set lineup when he's trying to find that guy with a hot hand, and there aren't many guys with hot hands right now. He's at a point where he's trying to look at historically who has been good second-half finishers, who has numbers against pitchers -- maybe even if it was a year ago -- to try to put a lineup together. I don't blame Gibby at all for having to change it around a lot. We just don't have a lot of guys swinging the bat."
While the D-backs have had their share of stumbles in the rotation and in the bullpen, it's the offense that Towers said was most to blame for the team falling behind the Dodgers in the National League West.
Towers was asked if Triple-A shortstop Chris Owings, who is the organization's No. 4 prospect, might be called up to help provide an offensive spark, and he said probably not until the Triple-A season ended.
"I still believe in the guys that we have here," Towers said. "It's just the waiting and how much longer do you wait? It becomes frustrating, because guys will have down years, but it seems that almost the majority of our [players] have regressed. And it's not like they're old players. They're in the prime of their career."
The D-backs have reshaped their roster since Towers took over at the end of the 2010 season.
While that version of the D-backs featured lots of home runs, but lots of strikeouts, Towers has tried to remodel the offense to reduce the strikeouts and increase the activity on the bases.
"I knew we probably wouldn't be a club that would homer a lot," Towers said. "But I expected us to apply pressure, high on-base, moving runners, moving the line. We had a lot of guys who if you looked at them historically, that's the kind of hitters they were. But it's four months we've struggled now."
Steve Gilbert is a reporter for MLB.com. Read his blog, Inside the D-backs, and follow him on Twitter @SteveGilbertMLB. This story was not subject to the approval of Major League Baseball or its clubs.