Porter sticks to cautious approach with Altuve
Porter sticks to cautious approach with Altuve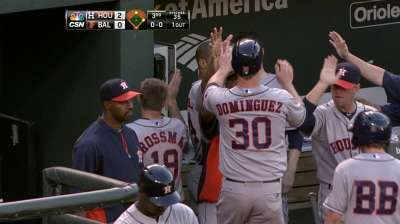 MINNEAPOLIS -- The Astros continue to play it cautious with second baseman Jose Altuve, who was held out of the starting lineup for Friday's series opener against the Twins for the second game in a row with a sore left quadriceps muscle.
Altuve, hitting .284 with four homers, 34 RBIs and 26 stolen bases, was able to take batting practice and complete his normal drills, and he could have played, but manager Bo Porter and head athletic trainer Nate Lucero opted to rest him.
"It's one of those things, you don't want this to linger the rest of the season, and you want to go ahead and get it taken care of," Porter said. "Nate and I just leaned towards the side of getting it taken care of. He was able to get multiple days of rest, and once he gets back in the lineup, he can put it behind him."
One of the risks with putting Altuve into the lineup when he's not 100 percent is that he runs the risk of aggravating the injury.
"It's extremely hard," Porter said. "When you talk to Altuve, he's like, 'No, I can play, I can play, I can play.' He only knows one way to play, so it's not like you say, 'OK, look, be easy when you're on the bases.' He's just not that kind of guy that can hit a switch and play a different way. We kind of had to take it out of his hands."
Brian McTaggart is a reporter for MLB.com and writes an MLBlog, Tag's Lines. Follow @brianmctaggart on Twitter. This story was not subject to the approval of Major League Baseball or its clubs.