Dozier's heroics lift Twins twice in walk-off
Dozier's heroics lift Twins twice in walk-off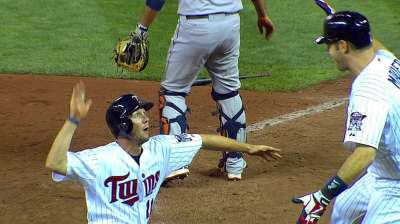 MINNEAPOLIS -- Brian Dozier started Friday's game with two line drives and nothing to show for it. He ended the game with three huge hits that helped the Twins win a game that they really couldn't afford to lose.
Dozier's two-out single in the 13th frame scored Clete Thomas with the winning run as the Twins defeated the Astros, 4-3, on Friday night at Target Field.
It's hard to call any game a "must-win" situation when you're 15 games under .500, but it's fair to say Friday's game was a "mustn't-lose" affair, especially once it stretched past its fourth hour and the innings piled up well into double digits. And after getting swept by the Royals at home, the Twins had to view Friday's game against the cellar-dwelling Astros as a chance to turn their fortunes.
"We had a terrible, terrible series against Kansas City, it really was," Dozier said. "A lot of mental mistakes, routine mistakes that can't happen up here, from both sides, pitching and defense and at the plate. It was good to get back on track with a much-needed win, a little confidence-booster."
Dozier entered the game with a .232 batting average, but he swung a hot bat from the get-go. He hit two balls on the nose -- line-drive outs to right field and shortstop -- but was 0-for-3 entering the eighth inning when he began to inflict damage.
"I had a couple good at-bats early, but that's part of it -- you live with that and move on," Dozier said of his early hard luck. "I think the biggest thing is I got some good pitches to hit, all in hitters' counts pretty much, and that's what you strive for as a hitter."
The Twins came from behind to tie the game in the eighth inning and again in the ninth, both rallies keyed by Dozier. He led off the eighth with a ringing double off the left-field wall, advanced to third on Joe Mauer's groundout and scored on Justin Morneau's single to right, tying the score at 2.
The Twins could have done more damage that inning, as Ryan Doumit followed with a single to right that advanced Morneau to third. But Astros reliever Wesley Wright struck out Oswaldo Arcia and bullpen mate Josh Fields fanned Trevor Plouffe to keep the score tied.
Matt Dominguez broke that tie in the ninth inning with an RBI double off All-Star closer Glen Perkins, but the Twins rallied back in the bottom of the inning to tie it on Dozier's RBI single.
"We had opportunities to close it out, and just did not get the job done," Astros manger Bo Porter said.
All that back-and-forth made for a hectic night, with the teams combining to use 15 pitchers and the Twins losing their designated hitter, which left pitcher Kevin Correia as manager Ron Gardenhire's best option to pinch-hit in the 13th inning. Correia dropped down a perfect sacrifice bunt, Dozier followed with his single to right-center and the Twins were finally able to breathe a sigh of relief.
"It was a crazy night, a bizarre night," Gardenhire said. "[Dozier] put the bat on the ball, and that was a big hit there. We needed it, everybody needed it. We needed to get off the field.
"To come and win a ballgame tonight was huge, especially this one. That could have been a real tough one, if we'd ended up losing it somehow."
The Twins struck first with a run in the third inning, seemingly rewarding starter Samuel Deduno for surviving a high-wire act in the top half of the frame. Facing a second-and-third, nobody-out jam, Deduno struck out three batters -- all looking -- to escape the inning unscathed.
Thomas then led off the bottom of the inning with an infield single and advanced to third on a single by Pedro Florimon. After Dozier lined out to short, Mauer's sacrifice fly to center plated Thomas with the game's first run.
But with two out and nobody on in the fifth inning, Deduno walked the bases full and Jason Castro made him pay. The Astros' lone All-Star grounded a single up the middle to drive in two runs and put Houston on top, 2-1.
"Sammy kind of lost it there for a bit," Gardenhire said, "but he's pitched pretty good. You only give up two runs, you'd think that'd be good enough to win a ballgame."
Patrick Donnelly is a contributor to MLB.com. This story was not subject to the approval of Major League Baseball or its clubs.