Tulo doesn't sense slip in approach during slide
Tulo doesn't sense slip in approach during slide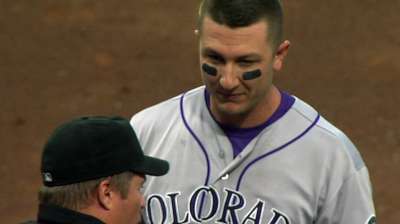 PITTSBURGH -- As is the case before every series against an opponent they haven't faced, the Rockies had a meeting to discuss strategy before Friday's opener of a three-game set against the Pirates.
It would have been a good time to address possible attitude and approach issues that could creep in when a team is reeling the way the Rockies are. But shortstop Troy Tulowitzki said fire and brimstone aren't necessary, even though the Rockies were outscored, 40-13, while dropping four games in Atlanta. They were cold, and the Braves were hot, and the games went accordingly.
"Just go out, give it all you've got, get back to basics and play the game the right way," said Tulowitzki, who suffered as much as anyone in Atlanta -- 0-for-10, plus an ejection for arguing called strikes Thursday night. "We can't worry about any of that. Hopefully, we can look back at this road trip and say it was good.
"For me, Atlanta was just one of those things you go through in a season. In Atlanta, I struggled, but I'll forget about it and try to put together good at-bats."
One reason Tulowitzki said he doesn't sense a major attitude problem is the approach and intensity of younger players in the lineup, especially second baseman DJ LeMahieu and rookie third baseman Nolan Arenado. LeMahieu has been competitive (.278) in the longest run of extended playing time in his career, while Arenado has dazzled defensively as he adjusts to big league pitching (.251, nine home runs, 35 RBIs).
"They're not overwhelmed and they're playing the game the right way, which is what you look for in younger guys," Tulowitzki said. "No one has quit. We'd be the first to tell someone if we thought they've quit. We're doing our thing and trying to make it work out for us."
Thomas Harding is a reporter for MLB.com. Read his blog, Hardball in the Rockies, and follow him on Twitter @harding_at_mlb This story was not subject to the approval of Major League Baseball or its clubs.