Belt returns to first, likely to sit Saturday
Belt returns to first, likely to sit Saturday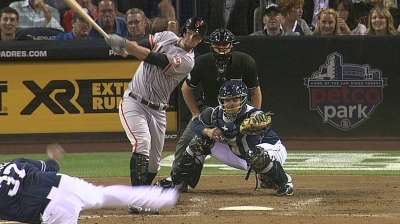 ST. PETERSBURG -- Brandon Belt reclaimed first base in Friday night's series opener against the Tampa Bay Rays, but Brett Pill remained very much in Giants manager Bruce Bochy's plans.
Bochy acknowledged that he wasn't certain how he would divide playing time for the rest of the year between Belt, San Francisco's primary first baseman for most of the season, and Pill, who went 7-for-13 with a home run and four RBIs as the Giants won two of three games in their previous series at Philadelphia.
Bochy's choices were simple for the first two games of the Tampa Bay series. Right-hander Chris Archer, who started Friday night's series opener, had limited right-handed batters to a .135 batting average, making the left-handed-swinging Belt a more logical choice than Pill.
The situation will be reversed Saturday, when Pill likely would get better swings than Belt against dominant Rays left-hander David Price.
"We're trying to get the matchups that we want," Bochy said.
Chris Haft is a reporter for MLB.com. This story was not subject to the approval of Major League Baseball or its clubs.