Effective slider sparking Masterson's star season
Effective slider sparking Masterson's star season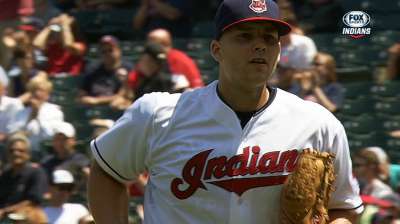 MIAMI -- Indians starter Justin Masterson is best known for wielding the kind of sinker that looks as though batters are hitting a bowling ball with a broom stick. This season, the pitcher is making sure people take notice of his slider as well.
Masterson has thrown a higher percentage of sliders this year, and the increased level of effectiveness has helped pave the way for the right-hander's All-Star showing.
"It's made all the difference in the world," Indians pitching coach Mickey Callaway said.
Through 23 starts this season, Masterson has held batters to an .081 (13-for-160) average with 91 strikeouts in at-bats that end with his slider. The starter has been especially tough on right-handed hitters, who have gone just 1-for-76 against the breaking pitch.
Last season, Masterson threw his slider 19.3 percent of the time, but that rate has risen to 27.7 percent this year.
"For him, that's like adding another pitch," Callaway said. "He's adding that much more effectiveness to his fastball. Basically, he's added almost 10 percent more effectiveness."
According to fangraphs.com, Masterson's slider is currently rated as the best in the Major Leagues with a value of 17.1. The next four pitchers in that ranking include Texas' Yu Darvish (16.8), San Francisco's Madison Bumgarner (14.2), Kansas City's Ervin Santana (12.9) and Miami's Jose Fernandez (11.9).
"Yeah, well, that's according to fangraphs," Masterson said with a smirk. "The fact that it has been more effective has been leading me to throw it more. Last year, it probably wasn't as good, so I'm not going to throw my third- or fourth-best pitch. I'm going to stick with what's working well."
Callaway credited Masterson's altered bullpen routine between starts this season for the pitcher's improvement across the board. The sinkerballer has been working through longer mound workouts (35-40 pitches this season) and having a hitter step up to the plate near the end of the session.
Masterson, who has already set career bests this season with 13 wins and 160 strikeouts, said the latter change has been the most helpful.
"For me, the biggest thing has been adding the hitter at the end," Masterson said. "It's a way to just kind of visualize and work through it before I finish."
Jordan Bastian is a reporter for MLB.com. Read his blog, Major League Bastian, and follow him on Twitter @MLBastian. This story was not subject to the approval of Major League Baseball or its clubs.