Ramirez sees continued decline in power numbers
Ramirez sees continued decline in power numbers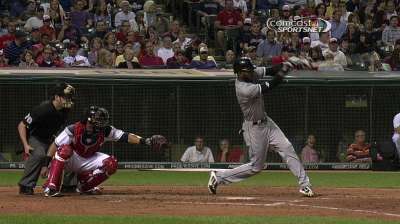 DETROIT -- Through Alexei Ramirez's first four Major League seasons, he produced 69 total home runs with a single-season high of 21 as a rookie in 2008. That long ball total dipped to nine in 2012, even though Ramirez topped 70 RBIs for the fourth time.
But Ramirez entered Friday's contest at Comerica Park with just one home run, which came in the season's second game on April 3. He has gone 104 games and 423 at-bats without clearing the fences, but he doesn't have an explanation for the power outage.
"I have been working as hard as I always have and things haven't come out the way I want them to," said Ramirez through translator and White Sox coach Lino Diaz. "I really don't have an explanation to say why the numbers are down.
"My swing is the same. I've been hitting in a spot where I need to get more on base and I need to be a little bit in control of my at-bats and moving the runner or hitting behind the runner. Things like that. It's a little bit different."
Ramirez has 304 of his at-bats this season from the two slot, where that bat control he talked about stands as a necessary tool of the trade. But he had 401 at-bats hitting second in 2011 and belted nine home runs from that lineup position.
That dip in production has been counter-balanced by an increase in stolen bases to 23. Nonetheless, Ramirez's name made its way around the non-waiver Trade Deadline rumor mill and he still could be moved in the August waiver period or in the offseason.
It's not a scenario that Ramirez gives much consideration.
"My career is here -- it started here," Ramirez said. "Whether they trade me or not, that's outside my control so there's nothing I can do about that. But for me, my career is here in Chicago."
Scott Merkin is a reporter for MLB.com. Read his blog, Merk's Works, and follow him on Twitter @scottmerkin. This story was not subject to the approval of Major League Baseball or its clubs.