Ventura: No limits on Sale's pitch, inning count
Ventura: No limits on Sale's pitch, inning count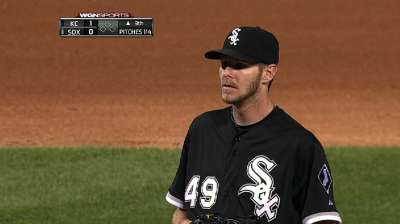 DETROIT -- Although Chris Sale threw a season-low 79 pitches Thursday afternoon in Cleveland, it had nothing to do with some sort of White Sox plan to reduce his workload.
"Yesterday was more of [that] it wasn't going well. It wasn't as much you are going to let him throw 120 pitches," said White Sox manager Robin Ventura of his ace. "He wasn't having a good day and you are trying to get him out of it.
"I don't see us doing a pitch count or innings count on him. This year we have just been letting him go, and it's been better for him. We haven't had that situation where last year we kept running into either giving him six days and every once in a while skip him. Yesterday had nothing to do with any of that kind of stuff we did last year."
In his second full season as a starting pitcher, both of which earned Sale All-Star nods, the southpaw has gone 110 pitches or beyond in 11 separate starts. He topped that total eight times all of last year.
As Sale moves forward at the top of the White Sox rotation, the team is making sure Sale gets a big enough workload to be ready for future rigors of the job.
"Oh, absolutely," said Ventura of Sale, who has thrown 142 innings over 20 starts to date. "You have to make sure he builds up that strength and knows what it's like to pitch a full season and get through it and be one of those guys you count on."
Scott Merkin is a reporter for MLB.com. Read his blog, Merk's Works, and follow him on Twitter @scottmerkin. This story was not subject to the approval of Major League Baseball or its clubs.