Cards confident Cruz can deliver on defense
Cards confident Cruz can deliver on defense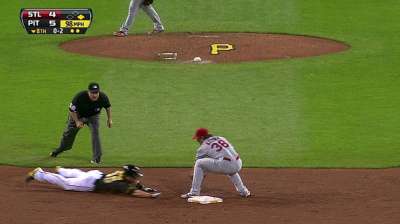 CINCINNATI -- The Cardinals don't expect to fully replace Yadier Molina's bat while the catcher allows his balky knee to heal.
After all, Tony Cruz, who will assume much of the responsibility behind the plate in Molina's absence, totes a .288 on-base percentage with one home run and 25 RBIs in 255 career at-bats.
Cruz, however, tallied three hits and two RBIs in Thursday's victory in Pittsburgh. So perhaps the Cardinals won't miss a beat with their All-Star backstop on the shelf. Right?
Not so fast.
"The offense is just a bonus," said St. Louis skipper Mike Matheny, who lauded Cruz's exploits behind the plate, not at the dish.
Matheny enjoyed the rapport Cruz demonstrated with starting pitcher Joe Kelly, who tossed six scoreless innings on Thursday. The manager hopes the rest of the club's hurlers trust Cruz and his ability to call a game and manage a staff.
"We need the rest of this staff to put faith in the fact that Tony knows what he's doing," Matheny said.
Matheny knows Cruz and Rob Johnson likely won't match Molina's production in the batter's box, but the former catcher hopes his current crop of backstops can keep the club's pitching in order.
"There's no question that Yadi is a big part of our team," Matheny said. "There's no question that he's a big part of our offense. But more importantly, to our pitching staff, they need to know that Tony has been paying attention and is ready to jump in and help out however he can."
Zack Meisel is a reporter for MLB.com. Follow him on Twitter @zackmeisel. This story was not subject to the approval of Major League Baseball or its clubs.