Rehabbing Ludwick showing some rust at plate
Rehabbing Ludwick showing some rust at plate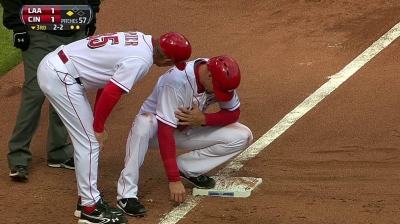 CINCINNATI -- As Reds outfielder Ryan Ludwick works his way back from a torn labrum in his right shoulder, he hasn't come across any problems physically. However, after being out of game action for roughly three months, he has shown some rust at the plate.
"Ludwick's feeling good," manager Dusty Baker said. "He's playing so-so, but he's feeling good."
On Wednesday, Ludwick went 0-for-3 while playing in left field for Triple-A Louisville. In six total rehab appearances -- three for Class A Dayton and three for the Bats -- Ludwick has gone 2-for-15 (.133) with a double, an RBI, three walks and two strikeouts. Although Ludwick's physical status is important, Baker said it's not the only factor playing a role in his eventual comeback.
"No. 1, how is he feeling?" Baker said. "But you want him to have his timing when he comes back. You don't want to have him scuffling. We got enough guys scuffling, so you want him to be an enhancer vs. a guy who's trying to play catch-up. He's playing catch-up anyway, but we want him as close to ready as possible."
Jeremy Warnemuende is an associate reporter for MLB.com. This story was not subject to the approval of Major League Baseball or its clubs.