Mariners return to closer-by-committee system
Mariners return to closer-by-committee system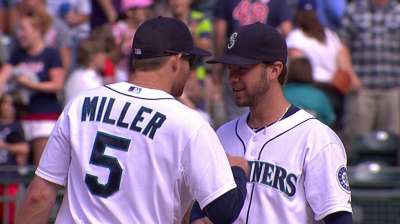 BALTIMORE -- After Tom Wilhelmsen couldn't retire four straight batters Thursday and ignited a ninth-inning Red Sox rally in Seattle's 8-7 loss, acting manager Robby Thompson said Friday the team would go back to a closer-by-committee approach for now.
Wilhelmsen was moved out of the closer role for several weeks at the end of June after running into some midseason troubles, but he had regained the job and recorded eight straight saves until Thursday's meltdown.
Wilhelmsen didn't actually blow a save in the Red Sox game, since he entered in a non-save situation with a 7-2 lead. Boston wound up scoring six runs, while three Seattle relievers managed to get just one out after Wilhelmsen walked two batters and gave up a pair of hits to start the inning.
With manager Eric Wedge still on leave as he recovers from a mild stroke, Thompson and pitching coach Carl Willis discussed the situation and decided a change is in order again.
"As of right now, maybe like in the past, we'll piece it together and match up and go from there," Thompson said prior to Friday's series opener with the Orioles. "Those games like that and even closer games where we've got the lead, we've got to find a way to win the ballgame."
Thompson mentioned Oliver Perez, Charlie Furbush, Yoervis Medina and Danny Farquhar as candidates to be used in closing scenarios.
"We'll let the game and hitters coming up dictate who we're going to go with in that situation," he said.
As for Wilhelmsen, who saw his ERA climb to 4.37 after allowing four runs without an out?
"For me watching him, he's pitching with a little lack of confidence," Thompson said. "He's not pounding the strike zone with fastballs like he did in the past to get to his breaking ball and that changeup. At any part of the game, first inning or whatever, if you walk the leadoff hitter, the percentage is high that that guy is going to score.
"You're talking about the ninth inning, trying to get those last three outs, you can't give any free passes. That's like giving a team four or five outs in an inning. You just can't get away with that. Tommy is a strong guy and strong minded. I think he'll be OK, but I think he needs to refocus and get his confidence back in that fastball."
Greg Johns is a reporter for MLB.com. Follow him on Twitter @GregJohnsMLB as well as his Mariners Musings blog. This story was not subject to the approval of Major League Baseball or its clubs.