Arroyo unable to contain red-hot Cards offense
Arroyo unable to contain red-hot Cards offense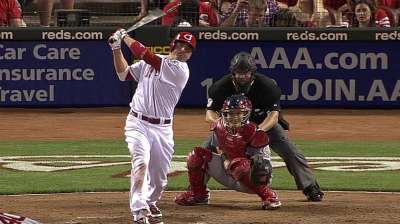 CINCINNATI -- As expected in a 13-3 loss like the one the Reds took against the Cardinals on Friday night, not much went right for Cincinnati, which fell in a 12-0 hole before even scoring a run. But by the time outfielder Jay Bruce was ready to make his way out of the clubhouse at Great American Ball Park, the memory of the loss was fading out of his mind.
Because in baseball, tomorrow almost always brings another game and another opportunity. And although the opener of a crucial series couldn't have gone much worse for the Reds, Friday's loss did nothing more than cost the team one game in the standings.
"Tonight's not fun," Bruce said. "Tonight was not a fun night for really anyone on this team, and we'll come out ready to play tomorrow. You have to [have a short memory] or else you won't give yourself much of a chance when it comes to this game."
On Friday, there was a lot for the Reds to forget.
While starting pitcher Bronson Arroyo suffered through the rockiest outing of the season, the Reds' offense failed to truly threaten the Cardinals. Although Cincinnati hung a three-spot on St. Louis starter Shelby Miller in the sixth inning, it was too little, too late, as the Reds dropped to five games behind the second-place Cardinals in the National League Central.
Cincinnati accounted for six hits and 11 strikeouts on the night and only four runners reached scoring position. Still, the Reds' three runs, which all came on a Joey Votto home run, were more than they had posted in five of their previous six games. But they wouldn't be nearly enough on a night Arroyo couldn't make it out of the second inning before his replacement began warming up in the bullpen.
After retiring the first batter he faced to start the game, Arroyo gave up a double to Carlos Beltran, followed by a single and a walk to load the bases and set up David Freese's three-run double in the next at-bat. Jon Jay then became the fifth straight Cardinal to reach base when his hard-hit grounder bounced off the glove of Brandon Phillips and scored Freese to make it 4-0 before the Reds had a chance to bat.
"With a lineup like this, when you give up four runs in the first inning, as good as they can be and as much as they grind at-bats, it's very difficult to kind of keep those guys down," Arroyo said. "Because when they get momentum going, they really start to turn the heat up."
The Cardinals did just that for the rest of Arroyo's brief outing. After recording a strikeout and a flyout to start the second, Arroyo gave up another double to Beltran, who came around to score on Allen Craig's second single. Matt Holliday lined out to end the inning with just one run scored, but not before Arroyo used 54 pitches to get through the first two frames.
The third inning saw Arroyo put the Cardinals down in order, and despite a single to open the fourth, he was one strike away from escaping the inning unscathed. But Beltran again got the best of Arroyo and chased him from the game with his third hit of the night.
The tough night against the Cardinals was nothing new for Arroyo, who moved to 0-4 in five starts against them.
"It's usually feast or famine with these guys," Arroyo aid. "They got a good ballclub, and they just beat me around the ballpark today."
Arroyo's 3 2/3 innings marked his shortest outing of the season, and the seven earned runs tied a season high. On the night, the 36-year-old right-hander gave up eight hits, walked one and struck out five despite saying he felt strong coming out of warmups.
The bullpen didn't fare much better. Curtis Partch, who had been up since the second inning, replaced Arroyo and promptly walked in two runs before surrendering a double to score two more. Partch gave up three more runs on a pair of homers in the fifth, before Logan Ondrusek allowed a solo shot in the seventh.
Manny Parra and Aroldis Chapman were the only ones who didn't pitch out of the Cincinnati bullpen, which walked eight batters.
Meanwhile, Miller stifled the Reds and allowed just two hits through five scoreless innings. Already trailing, 12-0, the Reds finally scored on him in the sixth, when Votto followed a Shin-Soo Choo walk and a Derrick Robinson single with the 150th home run of his career.
"I felt really good," Miller said. "That's probably some of the best stuff I've had all year. I just kind of let it get away from me in the sixth. I lost focus, I guess, something you shouldn't do as a starter."
Friday marked the sixth loss in seven tries for Cincinnati, but much like Friday's game, Bruce and the Reds won't dwell on their recent struggles.
"I didn't even know that, honestly," Bruce said. "It's a game that is determined by how short of a memory you can have. We'll be here tomorrow. Runs aren't cumulative, so it will be 0-0 starting at 7:10 tomorrow."
Jeremy Warnemuende is an associate reporter for MLB.com. This story was not subject to the approval of Major League Baseball or its clubs.